Lord Gill announces review into TV cameras in Scottish courts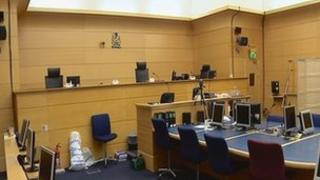 The policy of using television cameras in courts is to be reviewed, Scotland's most senior judge has announced.
Lord Gill said a review was needed because technology had changed dramatically in the 20 years since broadcasters were first allowed to televise some proceedings.
Three or four applications are submitted each year to film in court, but permission has rarely been given.
Cameras were last in court for killer David Gilroy's sentencing in April.
Gilroy was sentenced to life for the murder of former girlfriend Suzanne Pilley, from Edinburgh.
However, during the sentencing, Gilroy was not shown and the camera focused only on judge Lord Bracadale.
Broadcasters have been allowed to apply to film in court since 1992, but only with the consent of all parties.
However, in January this year the former Lord President, Lord Hamilton, announced that for a trial period filming was to be allowed without the consent of everyone involved.
But he said this was only to be done when an undertaking had been given that the final broadcast would not identify those who had not consented to the filming, and that jury members would not be identified.
English courts
Cameras have very rarely been allowed into Scottish courts. The Lockerbie bomber's appeal against his conviction was televised in 2002, and in 1996 the BBC was allowed to film the sentencing of two armed robbers.
Filming has been banned in English courts since 1925, but in the Queen's Speech this year, the UK government announced proposals to allow certain aspects of court proceedings to be filmed.
At the start of this month, one of Scotland's leading QCs, Donald Findlay, gave evidence to MSPs on Holyrood's justice committee.
He opposes filming in court and said any move to televise criminal trials would put lives at risk.
A statement announcing the review was released by the Judiciary of Scotland.
No more requests
It said that the Lord President believed the current policy needed to be revisited and given "extended consideration".
"He has instructed that a review be undertaken by Judicial Office Holders," it said.
It said the committee undertaking the review would outline its remit, scope and timescale.
TV production company Windfall Films has already been given permission to film proceedings in a number of High Court trials, for a documentary series on Scottish courtrooms for Channel 4.
The statement said this project would continue until it was finished, but added that no further filming requests would be considered until the review findings were published.