Scots health boards 'under pressure to balance books'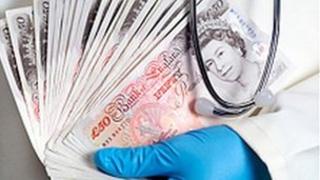 Scottish health boards face pressure to balance their books in the next financial year, with further savings of over £270m required, a report has said.
An Audit Scotland study on the financial performance of the NHS found all 23 boards met their budget targets for the fourth year running in 2011-12.
But the report found it was achieved by moving funding across the NHS, which was not clearly stated in statements.
Boards said they need to save £271.7m in 2012-13 because of budget pressure.
Audit Scotland said the need for boards to break even each year encouraged a short-term focus on spending.
Auditors reported that these savings plans "will be challenging to achieve, as the level of flexibility within budgets is considerably reduced by cost savings made in previous years".
'Tough times'
Auditor General for Scotland, Caroline Gardner, said: "The annual accounts show a picture of good financial performance but this doesn't reflect the pressure boards faced in achieving this.
"Money was moved between boards, several relied on non-recurring savings and some needed extra help from the Scottish Government to break even in 2011-12.
"The NHS needs to increase its focus on longer-term financial planning."
Health Secretary Alex Neil said: "I want to be very clear that these savings are not a reduction in budget, any money saved will be reinvested in frontline services.
"Times are tough but we know how important it is that we continue to invest in our NHS so we can continue to deliver a first-class service to patients across the country."