Scottish Natural Heritage issues deer safety warning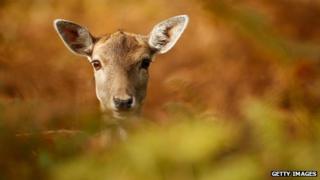 Drivers have been warned to be alert to the danger of wild deer as the peak months for deer-related accidents begin.
Scottish Natural Heritage said motorists needed to take extra care in areas where deer are likely to be present.
There are more than 7,000 collisions with deer every year in Scotland.
Collisions with deer are more likely to occur on main routes than on remote country roads.
The period following the end of British Summer Time (BST) often sees a rise in incidents involving vehicles crashing into deer.
Shorter days coincide with the animals coming down from the hills to feed at roadside verges.
Around 70 people are injured in deer-related accidents on Scotland's roads each year.