Scotland requests more drink-drive powers from UK government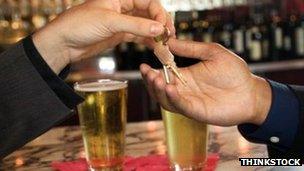 More powers over drink-driving should be devolved to Scotland, Justice Secretary Kenny MacAskill has said.
The Scottish government is planning to lower the limit from 80mg of alcohol per 100ml of blood down to 50mg, and it was given new powers to do so in July.
But Mr MacAskill has also asked the UK transport secretary for the transfer of powers in areas such as random testing and tougher measures for young drivers.
His request comes ahead of a Holyrood debate on plans to reduce the limit.
MSPs will this week debate the Scottish government's proposals to lower the limit, which has received the support of the three main opposition parties and is currently the subject of a public consultation.
Mr MacAskill has written to Patrick McLoughlin asking for the devolution of additional powers.
He said: "This government welcomes having the power to set the drink-drive limit but the Scotland Act was a missed opportunity. The very limited transfer of powers did not go far enough.
"We wanted a package to be devolved that would allow us to consider whether the police should be able to carry out breath testing drivers anytime, anywhere, and powers to consider changing the penalties for drink-driving.
"We also called for the chance to consider differential drink-driving limits. For example, for young and novice drivers.
"None of these were devolved by the UK government and I have written to the Secretary of State for Transport calling for the UK government to reconsider."
The latest Reported Road Casualty figures from Transport Scotland, for 2010, showed that an estimated 750 casualties - including 20 deaths - were due to drink-drive incidents.
Despite the proposed changes in Scotland, the limit in England and Wales would remain at 80mg of alcohol per 100ml of blood.
The Republic of Ireland lowered the limits last year, and and during the summer Northern Ireland's environment minister Alex Attwood said he also hoped to bring in legislation to lower the limits.
The blood alcohol limit in the Irish Republic dropped from 80mg per 100ml to 20mg per 100ml for learner drivers, newly qualified drivers and professional drivers.
The limit for all other drivers went down to 50mg per 100ml.
The 50mg/100ml limit applies in several European countries, including France, Germany, Italy, the Netherlands and Spain. Some of the countries have variations, with newly-qualified drivers in Spain having a lower limit.
Related Internet Links
The BBC is not responsible for the content of external sites.