Billy Connolly honoured for life's work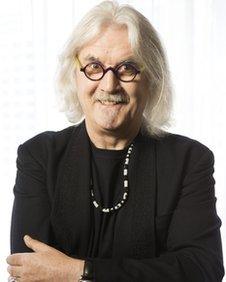 Comedian Billy Connolly is being honoured with a lifetime achievement award by Bafta Scotland.
The 69-year-old, who is also an actor and musician, has been hailed by the arts organisation as one of Scotland's most successful talents.
He will be given the award for his outstanding contribution to television and film.
Connolly will not be at the ceremony on 18 November but a recorded message will be played on the night.
Instead, he will receive the award at a public event in December.
Connolly said: "I'm really pleased and proud to receive this trophy from Bafta in Scotland because I know you probably think we luvvies get shiny prizes all the time. But actually, sometimes we don't.
"I'm really sorry I can't be there because I'm in San Francisco doing some prior engagements.
"But in December I will be in Glasgow, where my heart is all the time, doing a Bafta Life in Pictures event highlighting my film and television work from over the years, which might be quite groovy."
The event in December will see Connolly discuss his life and career which has spanned 30 films, numerous sell-out stand-up tours and television series.
He is set to appear in Dustin Hoffman's directorial debut Quartet and the much-anticipated The Hobbit, both to be released next year.
Past recipients of the outstanding contribution award include Sir Sean Connery, Brian Cox and Robbie Coltrane.
Ken Loach's film The Angels' Share leads the way in this year's Scottish Bafta nominations.
It will compete in the categories of best feature film, Paul Laverty for best writer, and Paul Brannigan and Siobhan Reilly for best actor and actress.
Kevin Bridges's television show What's The Story? is nominated for best comedy/entertainment programme and the comedian is also up for best writer for the series.