Action plan to plug gaps in Scottish human rights provision
By Reevel Alderson
Home affairs correspondent, BBC Scotland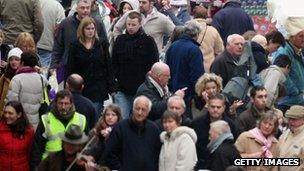 Scotland is to have a national action plan for human rights.
The plan, to be drafted by the end of 2013, will attempt to fill gaps in existing human rights provision.
The project is being co-ordinated by the independent Scottish Human Rights Commission (SHRC).
It follows a three-year investigation which has discovered gaps in human rights protection in areas such as the health service, fair pay and access to justice.
Professor Allan Miller, who chairs the commission, said much more could be done to bring Scotland up to internationally agreed human rights standards.
"What we've found in this study is that while Scotland has made notable progress in a number of areas, it can do better," he said.
"Crucially the research has shown that while there are some good high level policies and strong legislation, the realisation of human rights doesn't always happen in people's day-to-day lives."
In particular the research, called Getting it Right? Human Rights in Scotland, has highlighted problems with the availability of services in rural areas, discrimination in healthcare and the rights of disabled people, asylum seekers and gypsy travellers.
It also suggested more could be done with the right to adequate housing, fair pay, fuel poverty, policing, and the rights of victims of crime.
The new action plan will set out how to improve the picture - and eventually bring Scotland in line with countries which already have such official policies, such as Denmark, Finland, Australia and New Zealand.
The commission said it would work closely with a number of organisations to draw up the plan in a consultation lasting until March 2013, and would then monitor progress made to implement it.
Navi Pillay, United Nations High Commissioner for Human Rights, endorsed the Scottish process.
She said: "It is very important that countries develop and implement National Action Plans with the participation of civil society, public bodies, United Nations experts, academics, parliaments and individuals.
"National Action Plans can bring clarity to states in identifying the steps they must take to improve the promotion and protection of human rights, especially for the most vulnerable people."
SHRC was established in 2008 to promote and protect human rights guaranteed by the European Convention on Human Rights (ECHR), which form part of the law of Scotland through the Human Rights Act, 1998 and the Scotland Act, 1998.
Related Internet Links
The BBC is not responsible for the content of external sites.