George Wyllie: A retrospective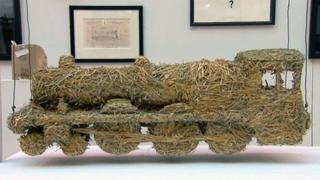 He may not officially have taken up the job until he was in his mid 40s but George Wyllie made up for it in the four decades after.
One of the country's most prolific artists, as well as one of the most popular, his work can be found in public places around the country.
And while you might think you know his work, this exhibition will make you think again.
Many of the artefacts are from his own home.
One of the earliest paintings, from 1951, hung in his daughter Louise's bedroom and sparked many a sea-themed bedtime story.
A plain cardboard box is labelled simply Loco ashes - the remains of that famous straw locomotive after its Viking funeral.
Other boxes contained poppadom flies, postcards and notebooks, already pointing towards the themes he would explore in later work.
Organisers appealed for unknown work and were inundated.
A series of sculptures made from silver car bumpers was created for the Motherwell Services Club when George was working closely with footballer turned interior designer Ron McKinven.
Among his earliest works, they also show flashes of his trademark humour, not least in the pipe band made from discarded exhaust pipes.
There are props from his stage play A Day Down A Goldmine, early versions of his happy compass, a giant robin from his Manchester public art project, another for the European championship in which the footballers are on wheels and the ball, a lump of metal.
And of course there is the prototype paper boat which he later built and sailed down the Clyde, Thames and Hudson rivers.
Each small object hinting at the bigger idea to come.
Wyllie's work has always been populist and accessible and this exhibition is no exception.
A corner of the space is dominated by a paper boat shed which is already full of little paper boats made by school children across the country.
Some contain haikus, stories or pictures. Some are larger, group efforts.
All will sail down the Clyde on Hogmanay on what would have been George Wyllie's 91st birthday.
'George Wyllie retrospective: In pursuit of the question mark' opens in the Mitchell Library in Glasgow on Saturday 3 November. The display is part of The Whysman Festival dedicated to Mr Wyllie's work.