Dementia: Every Scottish health board now has dedicated expert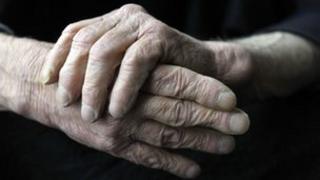 Every health board in Scotland now has a dedicated dementia expert, the Scottish government has announced.
A total of 14 Alzheimer Scotland dementia nurses are in place to help raise care standards and improve the quality of life for people with the condition.
They are also helping carers and families within hospitals.
The nurses are working with dementia "champions", recruited from front-line healthcare staff in hospitals.
In its national dementia strategy in 2010, the Scottish government set out plans to recruit and train 300 such champions by next year.
They are tasked with raising awareness of the strategy and encouraging better standards of care.
Health Secretary Alex Neil said: "Having had a personal experience of a family member with dementia, I know how important it is that they get the dignified care they deserve.
"That's why I'm delighted that Alzheimer Scotland dementia nurse consultants have been appointed in every health board area.
"This will help to ensure that our NHS is delivering the type of care that we all expect."
He added: "In addition, we have made the guarantee that from next April all people newly diagnosed with dementia will be entitled to at least a year of post-diagnostic support, coordinated by a link worker."
Alzheimer Scotland chief executive Henry Simmons said his organisation had long campaigned for "real and demonstrable improvements" in acute care for people with dementia.
"Completing these appointments is another significant milestone in our attempt to ensure that people with dementia and their families within general hospitals are treated with the utmost dignity and respect at all times," he added.
The introduction of the specialist posts is a jointly-funded initiative between Alzheimer Scotland and the Scottish government to "imbed best practice into every element of patient care".
They will support existing nurses, allied health professionals and clinical managers who have already become dementia champions to train, educate and support other healthcare staff to understand the needs of people with dementia.
However, Scottish Labour claimed the introduction of trained dementia nurses could not address "systemic failings" in the care of older people.
Jackie Baillie MSP said: "When the NHS in Scotland has fewer nurses than in 2007 and with hundreds more to go in the next couple of years, for the Scottish government to be hailing the training of 14 nurses smacks of papering over the cracks.
"Whilst dementia specialist nurses are welcome, just having one nurse in each part of Scotland simply can't make up for the damage that is being done to the NHS by the SNP."