Residential drug rehab 'dying' in Scotland warns expert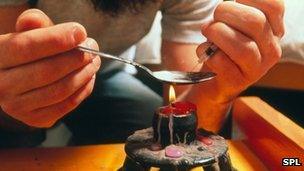 An emergency summit is to be held to discover why occupancy rates at Scotland's residential drug treatment centres are so low.
It comes as one expert has warned that residential rehab - one of the Scottish government's key planks in its drugs strategy - is "dying".
Rowdy Yates from Stirling University said intensive treatment was still needed and denied it was too expensive.
MSPs are due to debate the drugs strategy later this week.
Last month the Scottish government announced a review of its methadone programme.
It followed the release of figures showing that Scotland's drug deaths in 2011 were at a new high, with methadone linked to 47% of deaths.
Now the Scottish Recovery Consortium has called a meeting to discuss the issue of residential rehab. The charity wants to find out why referral rates have fallen.
Beechwood House in Inverness is only 40% full, while at Phoenix Futures in Glasgow half the beds are occupied.
Kuladharini, director of the consortium, said: "The policy is there and I think there's a grass roots momentum, building upwards, so there may be something in the middle that's blocking it - but it may not be one thing or one person or one strand of the system, it may be 101 different things.
"The unintended consequence of moving in a direction might have had an effect on residential."
But Rowdy Yates, head of the Scottish Addiction Studies group at Stirling University, has warned that the residential treatment option might not survive in Scotland.
He told the BBC's Sunday Politics Scotland programme: "The residential sector is dying, we need to know whether we want it to die - I don't think we do.
"When we really do compare like with like residential treatment is no more expensive than community based treatment."
The Royal College of General Practitioners has argued residential rehab for drug addicts is costly and methadone treatment remains very effective.
Dr Richard Watson said: "It (methadone) decreases the death rate in those who are prescribed it at least five or six fold, it decreases illegal drug use, it decreases crime.
"It might be possible to get drug free and even mentally healthy while staying in a country house somewhere but they have to come back to, usually, the council estate where they live."
Scottish Labour has said the methadone programme is not working while the Conservatives have called for more residential centres. The Liberal Democrats said the methadone programme should not be used as a scapegoat for what is a complex issue.
On the Sunday Politics Scotland programme, SNP MSP Mark Macdonald, who will speak in support of the government's drugs strategy at Holyrood this week, said residential care was not regarded as a less effective treatment.
He added: "I think what you need to do is offer a range of different treatments available dependent on the needs of the individual and for some people residential rehab will be the most suitable option."
Related Internet Links
The BBC is not responsible for the content of external sites.