Ash dieback disease: Survey finds seven sites in Scotland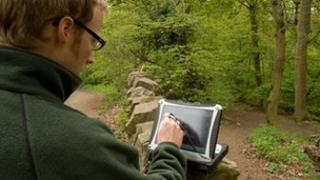 Seven sites in Scotland have been confirmed as being infected by a fungal disease threatening the UK's ash trees.
A major survey by the Forestry Commission looking for signs of Chalara ash dieback at sites across Scotland has now been completed.
Of the 2,730 sites inspected by workers over the past five days, 5% showed potential symptoms and will be revisited for further investigation.
The disease is threatening to devastate Britain's 80 million ash population.
It has already infected up to 90% of ash trees in some areas of Denmark.
In February the disease was found in a consignment of trees sent from a nursery in the Netherlands to a nursery in Buckinghamshire, England.
It has since been found at woodland near Kilmacolm in Inverclyde and at a private nursery in the north east.
Further cases have now been found near Eyemouth in the Borders, near Carrbridge in the Highlands, near Blairgowrie in Perthshire, and near Montrose in Angus.
The Forestry Commission has named one site as Dalbeattie Forest in Dumfries and Galloway.
A tree showing symptoms of ash dieback has been identified in the northern section of the forest known as the Town Wood.
Detailed investigations
A UK-wide investigation is under way to trace the original source of the diseased trees.
The rapid survey carried out by the Forestry Commission in Scotland covered 80,000 sq km (49,709 miles).
The results have been "cautiously welcomed" by Environment and Climate Change Minister Paul Wheelhouse but he said there was "no room for complacency".
He added: "Only 5% of the sites visited in the rapid survey showed any potential symptoms meriting more detailed investigations and subsequent laboratory analysis and this work is on-going.
"In addition to the two sites already confirmed, a further five sites have so far been confirmed as being infected, bringing the total known confirmed cases to seven in Scotland.
"Further surveys, including more detailed surveys in areas around infected sites, will be needed before we can be confident about the full extent of the disease in Scotland. There is also the possibility of windborne spread of the disease from the continent and from infected sites elsewhere in these isles."
Carol Evans, director of the Woodland Trust Scotland, said: "It's worrying that more confirmed and suspected cases of Chalara ash dieback have been identified in Scotland, although given the scale of the search that has been carried out we had expected to see some.
"Hopefully we'll continue to see prompt action where infected trees have been found to try and ensure that the disease doesn't spread further from these locations."
There is no risk to human or animal health from Chalara ash dieback.
The Forestry Commission said there was no need to restrict public access to woodlands, but members of the public were asked to behave responsibly to ensure that they do not inadvertently carry ash leaves from one woodland area to another.