The sights and sounds of Sonica come to Glasgow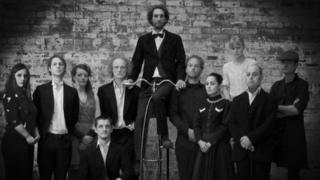 It's an incongruous setting: a warehouse above a Glasgow fish wholesaler.
But for artist Sven Werner it's the perfect location for his sprawling collection of Victoriana; from hooded box cameras, to gramophones and penny-farthings.
All have their part to play in Sven's latest work - part two of a trilogy called The Tales of Magic Realism - which he's invited me to preview ahead of its appearance at the new Sonica event.
It's a lesson in what sonic work is all about; part film, part music, part theatre, part poetry and a rare chance to completely immerse yourself in art.
I'm presented with a pair of headphones and an mp3 player and directed to peek beneath the cloth of an old box camera.
Inside, is a small theatrical set - like a Victorian peep show - then a warm seductive voice begins to tell a story.
The darkness, the confined space and the sound all add to the intimacy of the experience.
Before long, the outside world vanishes and as you move from scene to scene. At one point powering the light display by pedalling a bicycle - you're completely immersed in the story.
Curious
That, says Sven, whose background is as a filmmaker, is the point of sonic art. You should feel like you've walked into a film, and, while all the senses are activated (even smell at one stage) it's sound which is key to its success.
Cathie Boyd, director of Glasgow-based company Cryptic believes there are more and more artists working in sonic art.
She points to the run of Turner Prize nominees working across genres - including this year's Scottish hopeful Luke Fowler who will stage a one-off performance as part of Sonica.
Cathie also believes there's a strong appetite for this sort of work, particularly among younger audiences who flock to her regular Cryptic Nights which are captioned 'stay curious'.
There's plenty for the curious in the coming week, from Lithuanian cellists performing inside glass tubes to skeletal hands performing in the darkness and of course, that strange journey into the past on a penny farthing.
Sonica 2012 launches Glasgow, 8-18 November. You can follow Pauline McLean on Twitter: @BBCPollieMac.