Review over NHS Scotland drug access concerns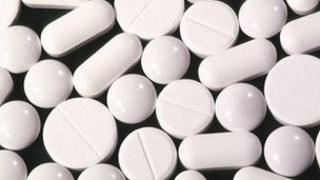 The Scottish government has ordered a review into access to medicines on the NHS, after concerns from clinicians and patients.
Health Secretary Alex Neil said it would ensure proceedures for making new drugs available were consistent.
The Scottish Medicines Consortium advises NHS boards on newly-licensed medicines.
The review will look at every aspect of national and local decision-making on the issue.
Mr Neil said: "We know that the Scottish Medicines Consortium (SMC) is globally respected and has the fastest and most efficient medicine review process anywhere in the UK.
"Some clinicians, charities and patients have, though, raised concerns about access to medicines, so it is only right that we look at ways that we could potentially improve access arrangements."
Independent expert Prof Philip Routledge will review the SMC's assessment processes, while the chief pharmaceutical officer, Prof Bill Scott, will assess how the consortium's decisions are implemented by NHS boards.
The SMC appraises all newly-licensed medicines and provides advice to health authorities on their clinical and cost-effectiveness.
If a medicine is accepted for use, then health boards set the criteria for prescribing it, but if the medicine is not accepted then health boards do not make it routinely available.
Clinicians can prescribe medicines that are not accepted for routine use for patients in certain circumstances through individual patient treatment requests.
SMC chair Professor Angela Timoney said: "The SMC is confident that its work is rigorous and of high quality.
"People from many countries come to Scotland to observe and learn from the SMC approach.
"We are always willing to learn lessons from other countries so my colleagues and I will support Prof Routledge in his work."
The Scottish Parliament's health committee is currently looking into the issue of medicine access.
Convener and Labour MSP Duncan McNeil, said: "The committee is surprised that the Scottish government has chosen to announce a separate inquiry, given that the committee's work on these issues is on-going.
"Nevertheless, the committee welcomes the announcement of the review, which will give an opportunity for these issues to be looked at again in depth and by experts."