Vion NV food producer to sell UK businesses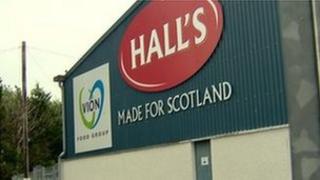 Dutch food producer Vion NV has announced it is to sell its UK food businesses, which includes 12 premises in Scotland.
The company said the sale would allow it to focus on "core markets in the Netherlands and Germany" and develop its "global ingredients business".
Vion UK's head office is in Livingston and it employs 13,000 people at 38 sites in the UK.
The firm recently began the closure of Hall's of Broxburn in West Lothian.
The meat processing plant is due to close by February with the loss of 1,700 jobs.
Vion's businesses in the UK include Key Country Foods, Tranfield and Grampian Country Food Group, which it acquired in 2008.
The company supplies beef, lamb, pork and chicken products to the food retailing, food manufacturing and food service sectors.
It employs some 2,300 people in Scotland, including about 1,000 at a poultry processing plant in Coupar Angus.
A further 400 people are employed at a cooked chicken plant in Cambuslang, 130 at a feedmill based at Strath of Brydock, near Turriff in Aberdeenshire, while the McIntosh Donald red meat plant at Portlethen, near Aberdeen, has about 280 staff.
Approximately 50 people work at the company's headquarters in Livingston.
Peter Barr, chairman of Vion UK said: "We have already started detailed discussions with a number of interested parties, including management, regarding the acquisition of the various parts of the UK business and these are progressing well.
"The level of interest in the businesses has been strong and we hope to be in a position in the near future to give further details about the progress which has been made.
"The sale process will be completed in a smooth and orderly fashion to ensure business continuity for our employees, agricultural and other suppliers and our customers."
Scottish Finance Secretary John Swinney said the announcement was "extremely disappointing" and would lead to a "particularly worrying time" for Vion employees.
He added: "The Scottish government has been involved in protracted dialogue with Vion over the last few months where we have repeatedly asked for reassurance on the future of other plants in Scotland. This information has not been forthcoming.
"Today's announcement is the first that the Scottish government has heard of the sale of the other businesses from the company and we will be engaging with the company to maximise the opportunities for business continuity and provide support, where possible, to employees."
'Future viability'
Nigel Miller, president of NFU Scotland, said he hoped Vion UK's sites could be sold as successful going concerns, protecting jobs and production.
He added: "The Scottish food and farming sector is still getting to grips with the firm's decision this summer to close its Broxburn operation.
"The McIntosh Donald plant at Portlethen is one of the big five Scottish plants focusing specifically on the Scotch brand and is embedded in Scottish agriculture's feeding heartland.
"Hundreds of Scottish farmers send significant numbers of top quality cattle to this plant and it is crucial that we safeguard it."
John Gorle of the Usdaw union said Vion's decision had "come of the blue" and would be a "real shock" for its workforce.
Mr Gorle said: "There will undoubtedly be questions raised about the future viability of Vion's UK food businesses, but Usdaw is firmly of the view that these can be secured with the right management, investment and strategic approach in place.
"Vion also has some explaining to do about its recent decision to close Hall's of Broxburn. Today's announcement clearly hasn't been made overnight and it makes the veracity of the consultation process at Hall's questionable at best."