Norovirus outbreak warning by health experts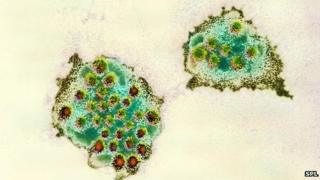 Health experts are warning of an unusually severe winter outbreak of the norovirus diarrhoea and vomiting bug.
Cases of the virus are already higher than normal for the time of year and its peak season is still to come.
The Health Protection Agency (HPA) said laboratory reports of the virus had recently risen from 48 in week 43 of 2012 to 114 reports by week 45.
Scotland's Chief Medical Officer Sir Harry Burns has warned of norovirus cases being detected earlier this year.
The HPA estimates some 290 cases of norovirus occur in the community for every case reported to the authorities.
Nausea followed by vomiting and diarrhoea are the main symptoms of norovirus.
Those who catch the bug are advised to have plenty of non-alcoholic, non-milky drinks and also take oral rehydration solutions.
Anyone infected should ensure their hands are clean, to prevent the infection spreading, and they should not prepare food for others, particularly babies and the elderly.
Earlier this month, NHS Tayside closed two wards to new admissions at hospitals in Dundee and Perth because of a norovirus outbreak. Wards were also closed at the Western Isles Hospital in Stornoway, Borders General Hospital and at Dumfries Infirmary.
During last winter 374 wards were closed across Scotland due to norovirus outbreaks.
The Scottish government has said it was important to remember that closing wards was an outbreak control measure, designed to minimise further spread.