Domestic abuse realities voiced in new campaign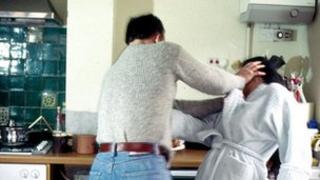 The reasons why women may not feel able to leave a violent home is the focus of a new campaign by Scottish Women's Aid.
The awareness-raising drive aims to highlight the reality faced by domestic abuse victims and the part people around them can play in making it stop.
Manager Lily Greenan said domestic abuse was often seen as the "woman's problem", when the focus should be shifted to the perpetrator.
Clips taken from victim interviews have been released as part of the campaign.
The audio recordings, which use actors' voices, are being made available to mark International Day for the Elimination of Violence Against Women.
Four of the six recordings come from case-study interviews conducted by Professor Rachel Pain of Durham University for a report she did in conjunction with Scottish Women's Aid looking at why women find it difficult to walk away from violent relationships.
Ms Greenan said: "The clips are women's words and we're hoping that just hearing what it's like for women in that situation will have an impact much bigger than the kind of research we promote in our documents.
"The clips repeatedly come back to the role that fear plays in keeping them there.
"The research was called Everyday Terrorism, a phrase used by one of the women who was interviewed."
Ms Greenan said the clips all focused on what it was that meant the women did not feel able to leave.
The winter campaign will be carried out in three phases with support from the Crown Office & Procurator Fiscal Service, the Scottish Violence Reduction Unit, advocacy and support service Assist and police forces.
It is hoped the work will encourage victims to report incidents of domestic abuse in the run-up to the festive period, which Ms Greenan said was often a difficult period for victims.
"It's a sad fact that things get worse over the Christmas and New Year period," she said.
"The police statistics that were released just recently demonstrate time and again that the worst day in the year for reports of domestic abuse incidents is New Year's Day."
Solicitor General for Scotland, Lesley Thomson QC, said: "Crown Office prosecutors have been at the forefront of effecting cultural change in attitudes towards domestic abuse.
"We will continue to work with our criminal justice partners to ensure that victims of domestic abuse have confidence in the Scottish Justice System."