John Swinney sets out George Osborne wishlist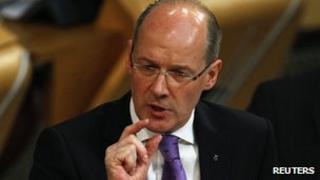 John Swinney has set out the key issues he wants Chancellor George Osborne to consider ahead of his Autumn statement.
The Scottish finance secretary said the UK government was holding back economic growth by the "speed and scale" of its spending cuts.
In a letter to the chancellor, Mr Swinney called for a "targeted boost to capital investment".
He promised to provide an updated list of "shovel-ready" projects which could be delivered in the next 18 months.
The list of projects, which would amount to £800m, focuses on transport, economic development projects, regeneration, further education, health and sport.
They include:
Clyde Gateway: Office and Industrial Developments for Economic Growth (£63.4m)
Upgrading A68 Pathhead to Tynehead Junction (£11m)
NHS Grampian Inverurie Health Centre and Community Maternity Unit (£7m)
Port of Leith masterplanning (£119m)
College projects: targeted investment in priority estates (£65m)
The finance secretary said he was "deeply concerned" about the impact of the 33% real terms cut that had been imposed on the Scottish capital budget by the UK government over the course of the Spending Review period.
He said additional capital investment would act as a stimulus for regeneration and economic recovery.
Mr Swinney also calls on the chancellor to:
Postpone the fuel duty rise;
Provide long-term clarity to the renewables industry and
Fully devolve Air Passenger Duty to the Scottish Parliament
Mr Swinney said: "The Scottish government is doing everything it can to support growth and protect public services but the UK government needs to wake-up to the reality that more needs to be done to address forecasts of close to zero or slightly negative growth for the UK as we move into 2013.
"It is clear that the chancellor's economic strategy is not working."
He added: "An immediate targeted boost to capital investment would help protect the recovery in the short term and provide the infrastructure necessary to facilitate long-term economic growth."
Mr Osborne will deliver his Autumn Statement on 5 December.