Ryan McCallum's rape conviction overturned after Cadder ruling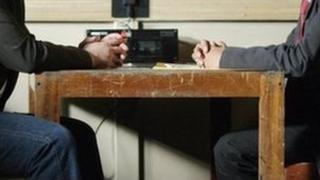 A man who was jailed for rape in 2009 has had his conviction overturned because he was questioned by police without having access to a lawyer.
Appeal judges said Ryan McCallum, 32, should benefit from the Cadder ruling, which outlawed the use of evidence obtained during such interviews.
Mr McCallum was jailed for five years for raping a woman in a Glasgow flat.
The judges found the answers he gave to police formed a significant part of the prosecution's evidence at trial.
The Cadder ruling arose after a Supreme Court decision two years ago involving Peter Cadder, who was accused of an assault in Glasgow.
Judges ruled it was a breach of human rights to question a suspect without first giving them a chance to get legal advice.
The decision has led to hundreds of cases being abandoned and some being tried again under the new rules.
Woman's account
In Mr McCallum's case, advocate depute Alex Prentice QC told the judges at Edinburgh's Court of Criminal Appeal that the Crown accepted the Cadder ruling made the interview evidence inadmissible.
But, he claimed, there were other reasons to accept the woman's account of events in the flat and argued that the conviction should stand.
Mr McCallum was found guilty after a woman told a trial he had attacked her in a March 2008, ripped her clothes and forced himself on her. The accused admitted there had been a struggle but claimed the sex was consensual.
Injuries to the woman's wrists and damage to her clothes happened when they argued afterwards, he told the trial at the High Court in Glasgow in May 2009.
Mr McCallum's trial and sentence happened before the Cadder legal arguments led to a change in the law.
Fair trial
But the Scottish Criminal Case Review Commission, which investigates possible miscarriages of justice, decided that Mr McCallum's conviction could be challenged.
And his lawyer also told the Court of Criminal Appeal in Edinburgh that his client had been denied a fair trial.
He told judges Lord Eassie, sitting with Lord Menzies and Lord Wheatley, that prosecutors at the rape trial had used what Mr McCallum had told police in order to attack his credibility, by pointing out inconsistencies.
The lawyer said there had been 42 references to the police interviews in an attempt to brand Mr McCallum as a liar.
And Lord Eassie noted that about a third of the prosecutor's closing speech to the jury had been based on the interviews.
Giving the decision, the judge agreed with Mr Carroll that without the prosecution's use of the questions and answer session with police, the outcome of the trial could have been different and the conviction was overturned.