John Park MSP goes back to his roots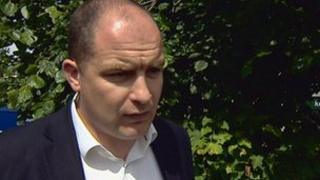 He was once tipped, in some quarters at least, as a coming force in the Scottish Labour Party, even as a potential leader. Now John Park MSP has decided that his future lies outside Parliamentary politics altogether.
He is taking up a post as policy and strategy director for the trade union Community.
Under the quaint procedures of Holyrood's list system, he is automatically replaced by the next name down on Labour's regional tally, Jayne Baxter. To her, welcome.
John Park has always struck me as one of the more grounded, more thoughtful members of the Scottish Parliament; always able to appreciate rival views even while adhering loyally to his own side.
He succeeded where so many fail in contriving to dispense with glib, bogus emotion while never losing sight of the importance of political issues, never descending into cynicism.
He will be a loss to parliament and also to the Labour cause - although his career trajectory would suggest that potential loss is not fully appreciated.
In the last parliament, he served in Labour's shadow cabinet and was a noted player: advocating policy, engaging with government, dealing with the media.
'Coal face'
When Johann Lamont won the leadership in December last year, he was replaced as chief whip and moved to a committee role.
Since then, he has seemed somewhat disengaged. Indeed, he has appeared just a mite detached since the 2011 election defeat following a campaign in which he had played a senior role.
From player to observer in a couple of short stages.
Mr Park's own explanation is that he is returning to the union roots whence he came to pursue the issues which have long interested him: jobs, apprenticeships, the rights of working people.
This he describes as fighting "at the coal face".
It would appear he has concluded that his role at the pithead and in the colliery office is somewhat circumscribed, by contrast with the job offer received.
PS: Cracking draw in the next round of the Scottish Cup. A couple of years back, when the mighty United beat Rangers at Tannadice in that competition, we went on to win it. Same again would be just fine and dandy.