Scottish legal aid row remains unresolved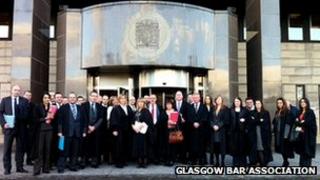 Scottish lawyers are continuing to oppose planned government changes to the criminal legal aid system.
Representatives who met Justice Secretary Kenny MacAskill but said there was "fundamental disagreement" over the reforms.
They include asking accused people with a disposable income of more than £68 a week contribute to defence costs.
Mr MacAskill has offered to increase the threshold to £82, but the Law Society of Scotland remains critical.
The reforms would also ask lawyers to begin collecting the money from clients.
Ministers said the changes would cut £3.9m off Scotland's £98m criminal legal aid bill and say it is right that some people who are accused in criminal cases contribute financially.
Speaking after the meeting with Mr MacAskill, Law Society president Austin Lafferty said: "Despite this latest meeting, there remains fundamental disagreement between the Scottish government and solicitors working at the frontline of our criminal justice system."
He added: "We are pleased to hear the cabinet secretary committing to increase the threshold at which someone would be expected to start paying contributions.
"However, it would be wrong if solicitors themselves ended up financing the cabinet secretary's sudden recognition of the unfairness of his original threshold of just £68 disposable income a week."
'Debt collectors'
Mr Lafferty said that, even with an increase in the threshold, the reforms under the Scottish Civil Justice Council and Criminal Legal Assistance Bill, would "still incentivise the innocent accused to plead guilty and leave solicitors as unpaid debt collectors for the government".
Mr MacAskill indicated that he thought the change to the threshold was significant.
He said: "The legal profession has been very vocal about the potential risk to access to justice that the current threshold level presents and this change to the threshold should address this.
"Regular discussions have been held with the Law Society, both before the introduction of the Bill and after at which I have heard these concerns.
"It was regrettable that the profession chose to take disruptive action while discussions were ongoing, and to present the position as an impasse, especially when the losers were some of their clients who appeared unrepresented in court."