Scottish Ambulance Service prepares for festive surge in call-outs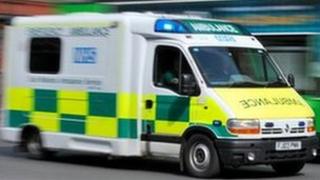 The Scottish Ambulance Service has said it will step up resources at peak periods over Christmas and Hogmanay.
Crews are expecting to deal with a 20% increase in emergency incidents during the festive season.
Last year at this time the ambulance service responded to more than 61,000 call-outs.
The emergency ambulance fleet includes 4x4s and vehicles fitted with snow chains or winter tyres to help crews respond in adverse weather conditions.
The average response time to a life-threatening emergency is 6.7 minutes.
Ambulance bosses said that most of the incidents crews were called to deal with during the festive period were alcohol-related.
Drinking was also a key factor in an increase in assaults on staff.
Drink responsibly
Health Secretary Alex Neil said: "Ambulance crews work incredibly hard to provide the best patient care 365 days a year, and at this, their most challenging time of the year, they play a particularly key role working around the clock to respond to 999 calls through all conditions and weather.
"Alcohol misuse is taking its toll on too many people across Scotland, young and old. Not only does this misuse burden our health service and police, it also costs Scots an estimated £3.6bn each year.
"It's particularly important at this time of year, when people are going on Christmas nights out, that they drink responsibly, keep safe and ensure they do not cause any added burden for our ambulance crews."
The ambulance service said it had put in place detailed plans to deal with the challenges that severe weather could bring at this time of year.
The emergency fleet includes more 150 vehicles that are either 4x4s or fitted with automatic snow chains, while others are fitted with winter tyres.
Special operations response teams will also be on hand to provide additional support with specially equipped Land Rovers and six wheeled Polaris vehicles that can operate in difficult terrain.
Pauline Howie, chief executive of the Scottish Ambulance Service, said: "Our staff work tirelessly to respond to people in need, whatever the weather conditions. They do a fantastic job and it is difficult to understand the motivations of those who abuse or try to obstruct them, but alcohol and other substances are usually involved.
"Detailed operational plans are in place to cope with adverse weather and our 4x4 capacity is greater than any previous year.
"As they enjoy festive parties, we would ask people to drink sensibly and wrap up well for the weather. This will help us to focus our ambulances on responding to those people who are in most need of our help."