Gregory's Girl: John Gordon Sinclair and Clare Grogan go back to school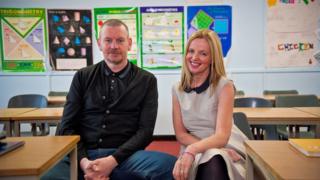 It was the movie that changed the Scottish film industry and made stars of its two unknown leads. In a BBC Scotland documentary John Gordon Sinclair and Clare Grogan go back to the school in Cumbernauld where Gregory's Girl was filmed.
Clare and Gordon - as Sinclair is known - first met in the summer of 1980, when as raw Glaswegian 18-year-olds they made a low budget film which changed their lives.
Director Bill Forsyth's much-loved film was made at Abronhill High, as well as other locations around the new town of Cumbernauld.
More than 30 years on and the school is earmarked for closure but the two stars, who are now both 50, went back to class to reflect on the film's lasting success and the unexpected turns their careers have taken since.
Sinclair, who had been a member of the Glasgow Youth Theatre, had worked with Forsyth before.
But he says he had started as a trainee apprentice electrician when Forsyth offered him the part of Gregory, so he was worried about missing his work.
Grogan was working as a waitress, though not in a cocktail bar, she jokes.
Forsyth, she says, was a regular in the Spaghetti Factory in Gibson Street and told her he wanted her in his film.
Grogan says: "I said 'what kind of film are you talking about?'"
But Forsyth overcame her suspicions and she first met Sinclair in a read-through at Pollok House in Glasgow.
He says Grogan was an "exotic creature to me" and describes her as a Glasgow "west end trendy".
She says Sinclair "seemed like the tallest person in the world - and he was wearing flares".
In the film Gregory is infatuated with Dorothy (Dee Hepburn), the football team's female striker, but it is Susan (Grogan) who is the girl he should be looking for.
When it came out in 1981, the naturalistic coming-of-age comedy struck a chord around the world and the young stars were soon whisked off to America and ferried from interview to interview by limo.
By this time Grogan was also enjoying success with her band Altered Images.
"Literally the summer I left school I got signed to Epic records and made the film," says Grogan.
But she says she didn't tell the record company she was making a film and she did not tell the director she was in a band.
"I didn't think it was particularly relevant," she says.
Grogan's career with the band led to a string of hits including Happy Birthday and I Could Be Happy.
In the video for Altered Images' 1983 single Bring Me Closer, Sinclair was brought in to play a James Bond-type character.
Sinclair had also had a hit record the previous year when he was the lead voice on the Scotland football team's World Cup record We Have a Dream.
The pair were living a superstar lifestyle hanging out with pop stars of the day such as Spandau Ballet and Wham.
"Looking back I don't think we realised what a lucky position we were in," says Sinclair.
The pair admit they "took it all for granted".
"It was the naivete of youth and the arrogance of youth as well," Grogan says.
Quite soon Grogan says she got "weary" of that environment and being away from home so much.
"All you really felt like was that wee person from Glasgow. From the moment I left school my life was extraordinary," she says.
A few years ago she tried to put those experiences in a book for children in an attempt to explain to her daughter Ellie about the joys and pitfalls of success.
She says she wrote Tallulah and the Teen Stars because she got "so depressed" with young people wanting to be famous for the sake of it.
"I wanted to explain to Ellie that it was all right to have fantastic dreams and aim for them, as long as you recognise there is some work involved in that," she adds.
Call the shots
Sinclair has also turned to writing in recent years, although his first novel Seventy Times Seven, is perhaps darker than Grogan's children's book.
His is a crime thriller set in Northern Ireland and America.
Sinclair says he likes writing as it allows him to "call all the shots" like a director and "play all the characters" like an actor.
However, the pair have kept acting throughout all their other diversions.
As well as comedy and drama, Sinclair won an Olivier award for the stage musical She Loves Me and starred in The Producers.
There is also the small matter of the Gregory's Girl sequel he made in 1999.
Next year he can be seen in Brad Pitt's World War Z, which was partly filmed in Glasgow.
Grogan, who appeared in shows such as Red Dwarf and EastEnders, will play the mother of Glasgow gangster in The Wee Man.
She says that after filming finished on Gregory's Girl all those years ago she felt "bereft".
"I did not know how I would keep it going," she says. "I'd had a little taste of it and wanted to keep it going."
The versatility that both Sinclair and Grogan have shown means they have managed pretty well.
When Clare Grogan Met John Gordon Sinclair is on BBC Two Scotland at 22:00 on Tuesday 11 December and available on the iPlayer for seven days after that.