Funding to provide 2,000 extra Scots university places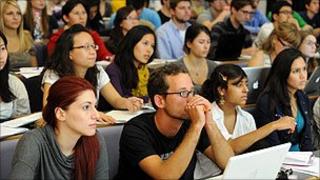 A £10m funding package to help widen access to higher education for students from poorer backgrounds has been unveiled by the Scottish government.
The money, allocated through the Scottish Funding Council, will provide an extra 2,000 university places.
More than half of those will go to young people moving on from college to university.
It comes after Scottish Labour leader Johann Lamont criticised the SNP administration's free tuition policy.
In a speech to mark her first anniversary as Labour leader, Ms Lamont warned that publicly-funded higher education was "not viable" without a "serious" reduction in standards.
She called for "a long-term solution" to higher education funding in Scotland and claimed the Scottish government's free tuition fees policy had not increased the number of low income students going to university.
Ability to learn
The new funding will see universities receive just over £10m in 2013-14 to pay for additional places, including more than 700 on widening access schemes, more than 1,000 for young people moving on from college to university and around 300 on the Skills for Growth scheme.
Education Secretary Michael Russell said: "Scotland already has a record number of people at university. We have abolished tuition fees to ensure education remained free and now also offer the best financial support package for students in the whole of the UK.
"To further widen access, we will now help more than 2,000 extra young people go to university.
"This will mean more young Scots, including those from our most deprived communities, will reap the benefits of a university education. This funding will help more college students see their learning count towards a university degree and ensure young people from deprived areas who show potential get the support and education they need to realise that potential."
He added: "Even within our limited fiscal powers, our actions to ensure young people access education based on ability to learn rather than the ability to pay underlines our commitment to supporting a highly skilled workforce and a growing economy."