Scottish health statistics revealed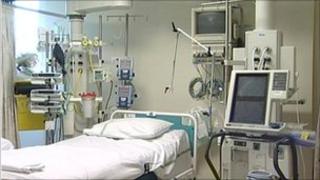 The number of available hospital beds in Scotland has fallen to just over 16,091, official figures show.
For the same period last year the number stood at 16,335.
Scottish Labour said that despite promises to protect the NHS budget, the Scottish government had failed to improve bed numbers.
But Health Secretary Alex Neil said the reduction was linked to same-day surgery and more patients being cared for care in the community.
He added: "Patients are now being treated faster than ever, in a way that suits them best - no-one wants to be stuck in hospital for longer than they need to be."
However, Labour's health spokeswoman Jackie Baillie said that since the SNP took power in 2007, the number of beds had been cut by almost 1,500.
She added: "When the SNP were in opposition, they called for the number of hospital beds to increase and attacked any reduction.
"Now, in government, we have seen that commitment jettisoned.
"If you cut beds, then it needs to be because you are treating people more effectively and changing the way in which you treat them.
"But with longer A&E waits, cancelled operations rising, delayed discharges up, 2,500 fewer nurses and midwives, budgets slashed, a record level of complaints and evidence of waiting times being fiddled - this isn't a planned approach to healthcare, it's chaos."
Day surgery
The report revealed that the number of beds in Scottish hospitals, as elsewhere in the UK, was gradually declining.
It said the reason was largely attributable to changing medical practice, including "progress in medical technology and the provision of alternatives to hospital admission".
The report pointed to a greater use of day surgery to treat patients, greater provision of care for the elderly in nursing homes or caring for patients in their own home.
It added: "The 244-bed reduction seen between September 2011 and September 2012 can be attributable to a combination of evolving models of care as described above and recent hospital reconfiguration in a number of health boards."