Clock ticking on Alan Rankin's solo sailing challenge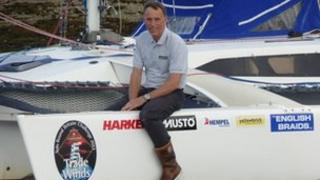 A Scot who is attempting to sail and run around the coastline of the UK and Ireland for charity is to use a hi-tech alarm clock to help him complete the feat.
Alan Rankin, from Carrbridge, will set off from Ullapool in June on his solo challenge.
He will be aided by a special monitor designed to reduce the risk of over-sleeping and of collisions.
Alan is also being advised by a sleep consultant on tackling fatigue.
During the challenge, he will undertake 10km runs at 10 ports along the way to raise awareness and funds for several charities.
A marine electronics company is installing monitoring equipment on Alan's yacht, Trade Winds, to reduce risks associated with growing fatigue.
Ullapool-based Watt Marine's Wattchmate system will be activated when Alan goes for a cat-nap, and will sound an alarm after a pre-set period.
If he fails to de-activate the system, a louder claxon alarm will sound.
If there is still no response, a distress alert will be transmitted on the emergency frequency to the nearest coastguard and nearby shipping.
Alan said: "Having run through tests, there is absolutely no way I will sleep through the alarm claxon as it is deafening."
A former Scottish decathlon champion, Alan is also working with the Edinburgh Sleep Centre to help him with sleep management.
The Trade Winds Solo Round Britain Challenge is raising funds for five charities - Parkinson's UK, Cancer Research UK, MS Society, British Heart Foundation and Ocean Youth Trust Scotland.
It is Alan's second major challenge in the past few years.
In 2006 he successfully circumnavigated Scotland by boat and bike.
Starting at Kirkcudbright in the Solway Firth, he sailed round St Kilda, Shetland, and landed at Blyth on the north east coast of England before cycling 165 miles back to Kirkcudbright.
Solo Round Scotland raised £15,000 for Parkinson's UK and Ocean Youth Trust Scotland.