Scottish ambulance call-outs rise by 8% over Hogmanay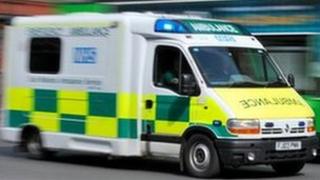 The number of Hogmanay calls to the Scottish Ambulance Service has risen over the last year.
Control centres answered 2,878 calls between 19:00 on Monday and 07:00 on Tuesday - an increase of 8% on the previous year's figure of 2,666.
The busiest period was between midnight and 04:00.
Extra call handlers, dispatchers and ambulance crews had been brought in for what is traditionally the ambulance service's busiest night of the year.
This year there were 1,303 calls in the west, up from 1,090 last year; 1,090 calls in the east, up from 1,088; and 485 calls in the north, down from 488.
The Scottish Ambulance Service's director of service delivery, Daren Mochrie, said: "As always, our staff showed their professionalism and commitment on what is the most challenging night of the year, and did a fantastic job.
"They worked through the night to respond to patients in need when demand is at times extremely intense."