Scots added to Oxford Dictionary of National Biography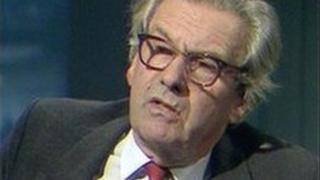 A number of Scots are among the men and women who died in 2009 who have been added to the Oxford Dictionary of National Biography.
Among the 225 new biographies added, more than 20 have close personal or professional connections with Scotland.
They include the investigative reporter and broadcaster Sir Ludovic Kennedy who was born in Edinburgh.
Sir Neil MacCormick, the Scottish nationalist, and Maurice Lindsay, the poet, have also been included.
The Oxford Dictionary of National Biography holds almost 60,000 biographies.
The Edinburgh-born artist, Craigie Aitchison, whose style has been described as part Lowry, part Matisse has also had his biography added, as has the Glasgow artist and journalist Cordelia Oliver.
She is said to have been a key figure in the promotion of Scottish theatre and opera.
The Church of Scotland minister and a leading advocate of ecumenicalism, Maxwell Craig is among the Scottish people to be recognised.
From across the UK the writers JG Ballard and John Mortimer and the celebrity Jade Goody have been added.
Also included are biographies of Harry Patch, Henry Allingham, and Bill Stone, the last surviving veterans of the First World War.