CNN names Scotland as world's top destination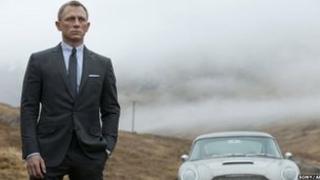 The US broadcasting network CNN has named Scotland as its top travel destination for 2013.
Scotland came ahead of Morocco and Amsterdam, with scenes from the latest Bond film cited as evidence of the country's appeal for tourists.
CNN said anyone who had seen Skyfall, part of which was filmed in Glencoe, would have left the cinema wishing they could "race through Scotland's dramatic countryside."
VisitScotland welcomed the accolade.
CNN highlighted the myriad of outdoor events taking place in Scotland in 2013, including the Open Championship golf tournament in July, the Scottish Food and Drink Fortnight in September and the Dumfries and Galloway Wildlife Festival, which starts in March.
It also noted Scotland's Great Trails, a network of long distance routes for walkers.
A feature published on the broadcaster's website said: "Scotland has seen fit to dub 2013 the "Year of Natural Scotland," and what better time to do it?
"Anyone who saw the 2012 James Bond thriller "Skyfall" walked away wishing they too could race through Scotland's dramatic countryside and hide out in its misty highlands (granted, while not being pursued by a homicidal Javier Bardem).
"The entire length of the country - all 750 kilometers of it - can be walked via the recently announced Gore-Tex Scottish National Trail. The trail, which runs from the English border to Cape Wrath, travels past pristine lochs and haunting glens as it follows mainly existing routes, such as the West Highland Way and Rob Roy Way."
Scotland was followed by the Moroccan capital Rabat, with the Slovakian city of Kosice third in CNN's list of top travel destinations.
In fourth place was Sub-Saharan Africa, fifth was Gettysburg in Pennsylvania and Amsterdam came sixth.
Mike Cantlay, chairman of VisitScotland, said: "Undoubtedly the global success of Brave and the awe-inspiring images of Scotland in Skyfall will have whetted the appetite of many potential visitors from home and around the world. Throughout 2013 we must capitalise on this success and position the majesty and magnificence of natural Scotland on the world stage.
"Despite the tough economic environment, momentum is building ahead of 2014 where we will welcome the Ryder Cup, the Commonwealth Games and of course Scotland's second Homecoming.
"Endorsements such as this really help to secure Scotland's leading position on the global tourism map as a must-see destination."
Year of Natural Scotland is a government initiative to showcase the country's scenery and natural heritage.