Billy Connolly 'still loves abusive dad'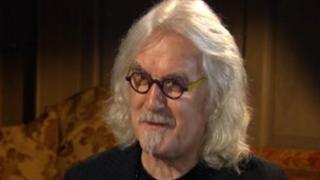 Actor and comedian Billy Connolly has spoken of how he still loves his late father, despite being sexually abused by him for five years.
In an interview for the BBC's Review Show, Connolly said the power of forgiveness was "immense".
And he said he still considered his father, who abused him between the ages of 10 and 15, to be a "great man".
His own children - the two eldest of whom had known his father - have never asked him about the abuse.
Connolly first revealed the abuse he suffered in a biography written by his wife Pamela Stephenson in 2001 - some 12 years after his alcoholic father William died.
In the book, the 70-year-old Scot described how his mother walked out on the family when he was three, leaving him to be brought up by his father and two aunts.
He said he and his father regularly shared a bed together in their flat in the Partick area of Glasgow.
During the interview with presenter Kirsty Wark broadcast on BBC2 on Friday evening, Connolly said he had not made a conscious decision to hide the abuse during his rise to stardom in the 1970s and 1980s.
He explained: "It wasn't the time to talk about things like that - not like now.
"I just didn't want to talk about it. It was mine and I kind of liked it being mine. I thought it made me very colourful but it was up to me to make of it what I wanted to, and I always thought it made me kind of special.
"I loved him, and I kept loving him, and I love him today. And you know, forgiveness is a great thing - the power of forgiveness is immense and you can forgive dead people as well.
"It is a very odd affair, sexual abuse. Mine is very, very typical - you don't tell anybody about it. Everybody wonders why people who are abused don't rush off to the police or the authorities or an aunt or an uncle and tell them.
"But it just doesn't happen because you feel you've taken part in it, because sometimes it's not the most unpleasant thing that has ever happened to you. So there is a deep guilt and shame involved and so you don't tell people".
When asked what his five children - two of whom were old enough to have known his father - had asked him about the abuse, Connolly replied: "Nothing. Absolutely nothing. They thought he was a great guy, and he was a great guy".
Connolly also described how his Aunt Mona had regularly humiliated him by rubbing his underpants in his face and leaving notes saying "thief" in the biscuit jar.
Recalling how she found a copy of an erotic poem in his possession, Connolly added: "It was a schoolboy thing, it was a very dirty piece and she found it and humiliated me with it for years and years and years and threatened to take it to school.
"She was always going to tell my dad and he was going to beat me limbless. But it was every day, was the thing. Every single day.
"And I had a teacher Rosie MacDonald who was a bit of a psychopath so I would leave my aunt and go to Rosie. It's astonishing I'm not gay because the women in my life are nightmares.
"I remember my sister standing outside school teaching me long division. I was scared to go in because I didn't know long division and I knew Rosie would kill me. My sister, who became a school teacher, explained it to me. She was my guardian angel."
The Review Show With Billy Connolly will be available on the BBC iPlayer until 23:44 on Friday 11 January 2013.