Scottish parliament to report on teenage pregnancy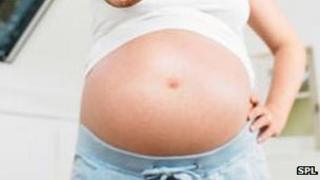 An investigation is to be carried out into how Scotland's teenage pregnancy rate can be further reduced.
It is an initiative of Holyrood's Health and Sport Committee.
Convener Duncan McNeil said teenage pregnancy can have a long-lasting effect on generations of young women and their children.
Teenage pregnancy rates in Scotland have fallen for each of the past four years - but remain among the highest in western Europe.
The committee will look at the support available for young women most at risk of becoming pregnant, as well those who have had a child.
Figures published in June 2012 showed that a Scottish government target for reducing pregnancies in the under-16 age group had been missed.
Pregnancy rates vary widely in different parts of the country.
In the poorest areas of Scotland, there are 64.7 deliveries per 1,000 young women. In the most affluent areas, the rate is 6.2 deliveries per thousand.
Deprivation
Abortion rates are approximately twice as high in the poorest areas.
Mr McNeil said: "The statistics are clear - Scotland has one of the highest rates of teenage pregnancy in western Europe.
"Particular regions of our country are affected by this issue, which is more prevalent in areas of deprivation, and can have a long lasting effect on generations of young women and their children.
"Whilst there is general consensus over the fact that we need to reduce the number of teenage pregnancies, it is clear that there are no quick fixes or easy answers."
Deputy Convener Bob Doris added: "This inquiry is about trying to get the views of a cross section of organisations - from those in the NHS and nursing and midwifery professions through to the social workers and children's charities - to determine if Scotland can do any more to tackle this issue.
"Our committee is also keen to hear from those who have first-hand experience of teenage pregnancy."