Cash seized from drug gang leader Lindsay Harkins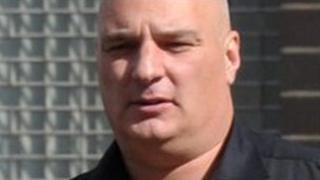 Drug smuggling ringleader Lindsay Harkins has been ordered to hand over more than £90,000 from the profits of his crimes.
He was jailed for almost 10 years in 2011 after he was convicted of supplying cocaine and amphetamine.
Harkins, 45, formerly of West Princes Street, Helensburgh, was given six months to pay the sum.
He was part of a drugs gang responsible for cocaine with a street value of up to £40m being brought into Britain.
Jailing Harkins, Lord Doherty concluded that he had played an "equally important" role in the cocaine trafficking operation as a co-accused, Keith Blenkinsop, who was jailed for 12 years for his role in drugs crimes.
Following Harkins conviction for the offences between January 2007 and June 2009, the Crown raised proceedings against him to seize any crime profits.
Large-scale dealing
A resolution has been reached and Harkins' counsel, Claire Mitchell, told the High Court in Edinburgh that his client's benefit from general criminal conduct would be recorded at £300,000, with a confiscation order to be made for £92,268.
Lindsey Miller, head of the Serious and Organised Crime Division (SOCD), said: "Lindsay Harkins was involved in a large-scale drug dealing operation in the west of Scotland.
"Dealing in drugs is classed as a 'lifestyle offence', which allows us to investigate Harkins' income over the six years leading up to his arrest."
Forensic accountants calculated that £300,000 in that period could not be legitimately accounted for and therefore constituted his "criminal benefit".
"Today's confiscation order for £92,268 represents the amount which is available to us at this time," added Miller.
"If further assets belonging to Harkins come to light in the future, the Crown can ask the court to recalculate the confiscation order up to the amount of the benefit recorded.
Hidden in suitcases
"This money will be added to the £60m already gathered from proceeds of crime and will be re-invested by Scottish ministers through the CashBack for Communities programme."
Harkins' assets included cash seized, money in bank accounts and his share of equity in a property in Helensburgh.
During the drugs operation, cocaine was hidden inside suitcases and holdalls and flown into Britain by couriers.
One of the gang's couriers was caught with counterfeit bank notes and later told a trial that Blenkinsop and Harkins were the brains behind the operation, with others acting as mules taking euros to Spain and drugs into the UK.
They exchanged so much sterling into euros that Blenkinsop's local post office won an award for the amount it turned over.
Cocaine was bought regularly in Spain in 2kg quantities at a time and concealed in cases with false bottoms in Barcelona.
Blenkinsop, 44, from Annan, was also subject to confiscation proceedings and a £21,000 order was made against him earlier.