Archives reveal life in Edinburgh and Inverness asylums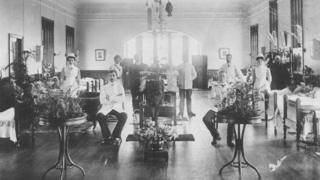 Documents which give a fascinating insight into life inside Scotland's Victorian lunatic asylums are being revealed to the public. They reveal knowledge of mental illness was lacking, but the hospitals could offer patients hope.
Archives from Craig Dunain hospital in Inverness have been placed in the city's new Highland Archive Centre.
Hundreds of letters from patients at the Royal Edinburgh Hospital have also been analysed as part of its 200th anniversary celebrations this year.
The documents reveal that although little was known about mental illness at the time, asylums could be a place of safety and even recovery.
The Royal Edinburgh Hospital opened in 1813 as the Royal Edinburgh Asylum with patients segregated into wealthy and pauper wings of the hospital.
Psychiatrist Dr Allan Beveridge has studied more than a thousand letters written between 1873 and 1908.
He said: "Patients wrote a lot of letters and the Scottish Lunacy Law allowed staff to open the letters and prevent them being sent if they were deemed unsuitable.
"That, although it was unfortunate for the patient at the time, is a great source for historians and psychiatrists today."
Edinburgh's asylum became famous under the leadership of its physician superintendent Thomas Clouston. He implemented a strict pattern of early rising, walks around the asylum grounds and early nights, along with plenty of food because he believed "stoutness" was conducive to mental health.
Many patients were admitted against their will and were even tricked, lied to, and physically manhandled into the institution.
One letter, from 23-year-old law student James B, is typical.
He wrote: "I have just realised I am actually in a lunatic asylum. Who on earth ordered the coachman to drive me here?"
Just over 50 years after the opening of Edinburgh's asylum, the Northern Counties District Lunatic Asylum opened, and became known as Craig Dunain.
The hospital's records have now been made available to the public in the Highland Archive Centre. They contain the details of hundreds of patients whose cause of admission ranged from "disappointment in marriage" to losing a Highland Games competition.
Specialist registrar Amy Macaskill has found it fascinating to look through the archives and see the way patients were treated 150 years ago.
She said: "What is clear is that they wanted to offer a degree of care and protection and containment for people who were causing difficulty at home and were in some level of distress."
However, while the treatment of mental illness has changed radically, our understanding of it still has a long way to go.
Amy said: "If you look at some of the reasons why people were admitted to hospital it can be relationship breakdown, difficulties within a family, difficulties with finances and that's no different now.
"These records tend to keep us humble. We may be 100 years down the line but things are not completely different."