Huge rise in whooping cough cases in Scotland in 2012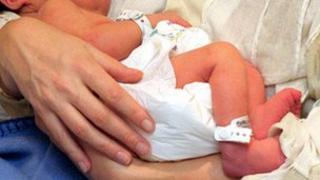 The number of whooping cough cases in Scotland increased by more than 20-fold in 2012, according to Health Protection Scotland's latest figures.
A total of 2,029 cases were notified last year, compared to 85 in 2011.
Pregnant women are being urged to get vaccinated to protect their babies, who cannot receive the jab until they are two months old.
Health chiefs said in August that the UK was experiencing the worst outbreak of whooping cough since the 1980s.
A campaign was launched encouraging pregnant women to be vaccinated so they could pass protection on to their children while they were still in the womb.
Newborn babies are most at risk of death from the disease, which is also known as pertussis.
The main symptoms are severe coughing fits that are accompanied by a "whoop" sound as children gasp for breath.