Black and white TVs: No switch off as 800 Scottish homes continue use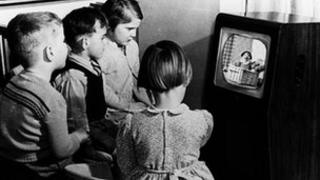 Almost 800 homes in Scotland remain loyal to black and white television sets despite last year's switch to digital, new figures suggest.
Across the UK, 13,000 households still have black and white TV licences, 794 of them in Scotland, according to TV Licensing Scotland.
Glasgow leads the way with 256, Edinburgh has 97, Dundee has 30 and Aberdeen 19.
Overall, Glasgow has the fourth highest number in the UK.
It is behind London, which has 2,715, Birmingham with 574 and Manchester, 413.
It is more than 40 years since the first colour TV broadcasts began and colour sets have outnumbered black and white since the mid-70s.
By the year 2000, there were 212,000 black and white TV licences issued but that number had shrunk to 93,000 by 2003 and, in 2006, the number was less than 50,000.
At the start of 2013, only 13,202 black and white licences were in force across the UK.
Personal video recorder
TV Licensing Scotland spokesman Fergus Reid is surprised that so many black and white television sets remain despite an increase in the sale of flat screen televisions, tablets, laptops and smart-phones over the Christmas period.
He said: "It's remarkable that, with the digital switchover complete, 41% of UK households owning HDTVs and Britons leading the world in accessing TV content over the internet, more than 13,000 households still watch their favourite programmes on a black and white telly."
The cost of a black and white licence remains frozen at £49 until the BBC Charter Review in 2016, while a colour licence costs £145.50.
Some black and white TVs may require a colour licence if they can receive and record programmes in colour - for example, when using a personal video recorder connected to a black and white TV.
However, TV Licensing Scotland does not believe that the continued prevalence of black and white licences is because people are inadvertently or deliberately purchasing cheaper licences for colour sets.
"There are obviously checks on people to make sure they are buying the right television licence," a spokesman said.
Jim McLauchlan, of the Museum of Communication in Burntisland, Fife, has experience of repairing black and white TVs and why some continue to use them.
"They did not want to dispose of a perfectly good working item which, for them, fulfilled their needs," he said.
Less demand to repair
Mr McLauchlan, who started as an apprentice radio and television engineer in 1956 and remained in the trade until he retired in 2004, still owns a black and white television at his Edinburgh home.
However, he only uses it as a monitor to test signals as part of his restoration work.
The museum has sets dating back to the 1930s.
Mr McLauchlan said: "Through the years, there was less demand to repair black and white sets as colour became more accessible and I'm really surprised there are still so many people with black and white TV licences, particularly after the change from analogue to digital."