Scotched Earth: Who controls Scotland's economic levers?
There's not much doubt about the direction of travel of the Scotch whisky industry.
The start of last year saw exports dip as higher French taxes kicked in, but distillers are assuming the longer-term trend is strongly upwards.
So in an industry that has to produce now for consumption in five to 15 years from now, they're splashing around the investment.
The world's biggest spirits company, Diageo, last year committed another £1bn of investment over the next five years.
After opening Roseisle distillery near Elgin in 2009, with capacity to make 35 million bottles a year, it's just opened its new bottling hall at Leven in Fife, with plans near there for a big expansion in warehousing.
It says it needs at least one more like Roseisle, and a dozen smaller distilleries are having capacity increased.
Pernod Ricard, the industry's number two, better known in Scotland as Chivas Brothers, is ramping up production as well, expanding existing distilleries and reopening Glen Keith ten years after it was closed.
It has about 60% of Roseisle's capacity.
Barrels of business
In other words, it's a good time to be a coppersmith in Scotland, and not a bad time to be working in a cooperage either.
Along with producer Craig Williams and cameraman Alan Harcus, I was at the Craigellachie distillery recently to film for a documentary, Scotched Earth, which was broadcast this week and is still available on iPlayer.
It showed not only that there's a lot of demand for repaired casks, but it's also a fascinating example of how piecework motivates productivity.
The 14 coopers working there (one of them a Hungarian barrel-maker called Attila, who turned up on his Harley-Davidson one day, looking for work) never stop for a moment, least of all to speak to each other.
Despite the growth in production, the number of jobs doesn't appear to be growing by much. Direct employment remains below 11,000, according to industry figures.
Roseisle operates round the clock on a workforce of only 12 people.
The industry recently put out figures boasting that it's got higher worker productivity than any other industry other than offshore oil and gas, and better than the City of London's financial sector. But that's because you can make so much with so few people.
Bottle tax
And that's why the documentary looked not only at the success of Scotch exports, but asked about the benefits coming back to Scotland.
Venerable business experts Professor John Kay and Sir George Mathewson, both former members of the Scottish government's Council of Economic Advisers, on the government to look at introducing a bottle tax.
They're arguing that that would be a means of getting more value for Scotland and sharing some of the distillers' big profits with the country from which this product has to be produced.
And Sir George pointed out this is not a debate about tax powers: they may already exist, as Holyrood has powers over regulation and pricing of water - the ingredient in whisky which, unlike barley or casks, has to come from Scotland.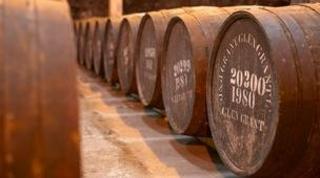 This has caused quite stir in recent days. Gavin Hewitt, of the Scotch Whisky Association, described it as "completely harebrained"; why tax success, and why make a product more expensive in markets where distillers of other spirits are eager to knock Scotch off its premium perch?
The Greens' Patrick Harvie liked the idea. Tories hated it. The Scottish government says it's not looking at it, though SNP MPs took divergent lines on it.
One clarification worth making: there's been some confusion about the idea of a bottle tax and the current tax on whisky.
The tax already paid is mainly a consumer tax, and it varies from one country to another. As the main part of the cost of a bottle of spirits, the UK Treasury only gets to tax the 10% or so of production that's sold in the UK, and of course, it charges VAT on top of that alcohol duty.
The other source of tax at present is corporation tax levied on the profits made by distillers, and that should apply to all the production of Scotch.
However, big corporations are rather good at moving the value of production to tax jurisdictions where they pay the lowest possible tax.
It's not clear how much this applies to the multinationals which dominate Scotch whisky. Diageo says it pays 18% tax on profits in the average year, but doesn't break down where that's paid.
The bottle tax proposal differs from these other sources of taxation as being a tax that's levied on production for UK markets and for export. It would not be directly levied on consumers or on profits, but is more easily collected, as it's linked to the volume of whisky as it leaves the distillery or bottling hall.
Modest jobs
The undercurrents of this issue of a bottle tax are several bigger questions about the Scottish economy, particularly in the context of the debate on Scottish independence.
First, how much control can any government have over internationally-mobile business? The Mathewson/Kay argument is that whisky stands out against other products because distillers have to be in Scotland to make it, so here's an opportunity to take advantage of that leverage. You can't, by contrast, do that with electronics or cars.
Second, how would an independent Scotland treat international investors? As a source of tax revenue, expected to share the benefits of operating in Scotland? Or as a source of jobs, however modest the numbers might be?
Third, why are the people who control Scotch whisky overwhelmingly based elsewhere? And fourth, does that matter?
Foreign control
Diageo has more than 35% of the whisky market, and if it can secure control of India's United Distillers, including Whyte & Mackay, that will push up to 40%. (A report in the Sunday Herald suggests that Indian regulators are sticking their oar in as the Delhi authority resists, yet again, opening up to foreign ownership. This debate about foreign control of economic assets is raging much more ferociously elsewhere).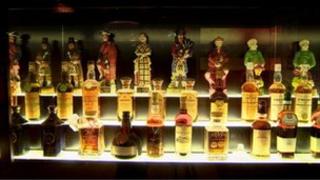 Pernod Ricard in France, has around 20%. LVMH, with Glenmorangie, Remy Cointreau, which recently paid a whopping £58m for Bruichladdich distillery on Islay, and Japan's Suntory which has Morrison Bowmore, contribute to another 20%.
There are newcomers on a small scale based in Scotland, along with two Scots headquarters for bigger players, William Grant and the Edrington Group, combined representing around 20% of the industry.
The Business Scotland radio programme this week has also looked at the industry's past, present and future.
The view I found, in widespread discussions, was that, whatever the criticisms of big distillers for taking the benefits of Scotch whisky's success in very large profits, these same companies brought professionalism, marketing expertise, global distribution networks, and it's turned around the industry's dire position in the 1980s.
Tartan ring fence
And while the industry's doing well, it seems a friendly business environment, where smaller players are happy to work with the bigger ones, swapping stock and benefiting from the marketing and advertising reach worldwide.
As part of that investigation, economic commentator Alf Young looked back at where this debate about foreign ownership has come from.
He puts the takeover of Distillers Company in 1987 by Guinness, later to become Diageo, amid the other fundamental changes in the economy at the time, as Royal Bank of Scotland fought off takeover by HSBC, and heavy industries faced huge job losses and closures.
Even in business circles, the issue then was whether to put a "tartan ring fence" around strategically-important Scottish businesses.
As he puts it, neither of the two alternatives at that time looked attractive: foreign ownership or oblivion.
It was oblivion for some sectors, foreign ownership for others, and an opportunity for other Scottish firms to go out and acquire business overseas, including, as it happens - and with disastrous consequences - Royal Bank of Scotland.
And to quote Alf Young: "It's extraordinary we're having this debate about independence, and we don't have a debate about the independence of our corporate base".
Scotched Earth can be seen again on iPlayer, and is being broadcast on BBC News 24 on Sunday 13 January at 14:30, 20:30 and 22:30. Business Scotland can also be heard on iPlayer.
You can also comment or follow Douglas Fraser on Twitter: @BBCDouglsFraser