Cystic fibrosis patients to get Ivacaftor in Scotland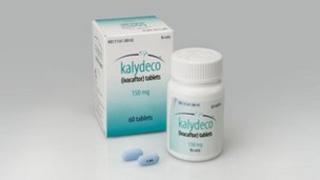 Patients with a rare form of cystic fibrosis will be given access to a new drug that has not been approved for use on the NHS in Scotland.
Ivacaftor - or Kalydeco, as it is also known - will be paid for through the new £21m fund to help improve access to drugs for people with rare conditions.
The fund was announced by the Scottish government on Monday.
On the same day, the Scottish Medicines Consortium (SMC) decided not to recommend Ivacaftor for use in the NHS.
Ivacaftor was made available on the health service in England at the start of the year.
But a discount on the drug given to the NHS in England was not offered to its counterpart in Scotland - leading to the SMC to recommend against its use largely on cost grounds.
Despite this, Heath Secretary Alex Neil on Thursday said that the Scottish government would take "swift action" to ensure there was no barrier for clinicians who wanted to prescribe it.
Guidance will be issued
Following a meeting with the Ivacaftor Patient Interest Group, Mr Neil and the group released a joint statement, which said: "Access to these rare medicines is currently available through the Individual Patient Treatment Request (IPTR) process.
"However, we recognise the fact that, as Ivacaftor benefits 100% of the patients with the 'Celtic gene' or G551D genetic mutation, it presents a challenge to the IPTR process as it stands.
"That is why the Scottish government will take swift action to address how best to ensure that, where specialist clinicians are supportive of prescribing Ivacaftor, the IPTR process does not present a barrier to accessing it.
"Guidance on the prescribing of Ivacaftor will be issued to all NHS boards.
"The cabinet secretary was clear that patients with the G551D gene mutation should not end up competing against each other for access to medicines."
Ed Owen, chief executive of the Cystic Fibrosis Trust, said: "We had a very positive meeting with Mr Neil and I am delighted that, with his commitment, all patients with the G551D mutation will get access to Kalydeco under the Individual Patient Treatment Request (IPTR) process in Scotland.
"Mr Neil recognised the unique nature of the Kalydeco issue and said the process would ensure that all patients benefit from the beginning of March.
"We very much welcome Mr Neil's commitment and we look now to ensure that all concerned work together to deliver this effectively for all eligible patients."
Separate review
Holyrood's health committee heard last year that the IPTR system was an "inequitable process" that favours young, middle-class and articulate applicants over more suitable vulnerable people who cannot speak up for themselves.
In November, Mr Neil said a review would be carried out to look at current systems for making new medicines available across the NHS in Scotland.
As well as the new fund, a separate review is currently examining if the IPTR arrangements can be improved.
Ivacaftor treats people who have the G551D cystic fibrosis mutation, which affects about 11% of people with cystic fibrosis in Scotland, compared with about 4% in the UK, according to the Cystic Fibrosis Trust.
About 80 people in Scotland would have been eligible for treatment with Ivacaftor, the trust estimates.