Paper Tigers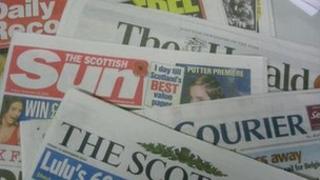 Read all about it. But don't bother paying, if newspapers are willing to give away so much content for free.
Their generosity is causing them profound problems.
We know about the squeeze from falling advertising, following on declining sales. And to keep them generating cash, they've put up their prices.
The British Journalism Review pointed out this week that The Scotsman has lost half its circulation since Johnston Press bought it in 2005, while it has lost nearly half its staff and doubled its cover price.
And it is fairly typical. Last year's circulation figures were bad for dailies. The Scotsman was down 14%, to average daily sales below 34,000. The Daily Record was down 15%.
That once mighty and dominant force in Scottish newsagents now sells only 250,000.
The Herald and its Sunday sister title have opted out of the monthly national figures for audited circulation, after a dismal run.
Next month, we will get an update on it within the regional and local titles for July to September (also including the Courier and Press & Journal).
Keeping the Sabbath
The Sunday market over the past two years was disrupted by the departure of the News of the World, followed by the rising of the Sun on Sunday.
Although the new tabloid from Rupert Murdoch's stable saw one of the sharpest declines in the December figures, it hit its rivals hard during last year.
The Sunday Mail average sale was down 23% to below 300,000, the Sunday Post by 17% to only 181,000 sales in Scotland, while Scotland on Sunday fell 19%, to below 40,000.
This is not only a Scottish problem. The average paid-for daily sale across Britain was down 9% during 2012. Some of the so-called quality dailies have suffered most. The Guardian fell 13% and the Financial Times by more.
Times by more.
The least bad falls were for the Times, Mirror and the Daily Mail, which, on current trends, can aim to overtake The Sun as Britain's biggest-selling title within a few years.
The Mail online is already outstripping the opposition with a big international reach and more than 100m unique monthly users.
The Independent fared worst of all, with print down by 48% last year, harmed above all by the rise of its own stablemate, the low-priced 'i'. The Indie is now selling only 59,000 per day across Britain.
In Scotland, it's just over 3,000.
Flying the Scotsman
So what to do? That's a question I've been asking for this weekend's Business Scotland programme on BBC Radio Scotland. (It's on at 10.05 on Sunday, and available by free download and iPlayer.)
Some of the answers are being tried at Johnston Press, headquartered in Edinburgh but run more often from London by its new-ish chief executive Ashley Highfield.
He came in from the technology sector in 2011, having worked at Microsoft and the future tech division of the BBC.
He says the migration from print to online is gaining some ground, though he still wants to "show some love" to the print medium.
Whereas the loss of pounds from lost print readers was being replaced by pennies for gained online ones, he says that is now turning into shillings.
Online revenue now accounts for more than 10% of total, and he aims to get to a third by 2015.
Highfield's under particular pressure because Johnston Press is labouring under a debt of more than £330m when last updated, and needs to roll that over in 2014 at much lower financing cost.
So cost-cutting across more than 170 Johnston titles has been ferocious.
The design of papers is moving to a single template for almost all titles, and local papers are closing down local offices.
Online migration
The big debate within newspapers is whether and how to charge for online access. The Mail's making some money out of free content online, while The Guardian's got big readership at a big cost.
The jury's still out on The Times and Sunday Times, which are offering low-priced packages to help a migration to online subscriptions.
The Scotsman stable of titles is drawing people into its tablet format, and Ashley Highfield claims there are signs that the declines are levelling out.
Indeed, he points to a sharp rise in bundled print/tablet subscriptions as the base for the readership, from 6% last year to around 25% now, saying that's a positive sign that the paper now knows its readership much better.
Mr Highfield said: "This is a fundamental shift from an audience we knew little about to one where we know a great deal about them and can offer advertising to that audience because we know about them."
I asked him about the prospects of merging The Scotsman with its rivals across Scotland, including The Herald, and while conceding that it's an interesting idea, the chief executive said it's not part of his plans at the moment.
Parish pump news
For an international perspective, I turned to two people in the academic end of journalism; Ewan Crawford of the University of the West of Scotland, and Charles McGhee, formerly of the Record and The Herald, who is soon to join Glasgow Caledonian University.
That's partly to support its joint venture with STV in setting up a city TV station for Glasgow. (The licence for that was won from Ofcom in the past week after a bidding contest, with a similar arrangement for the capital between STV and Edinburgh Napier.)
They offer the perspective of countries where newspapers are doing very well - not only in India, where they're booming on prosperity and rising literacy, but also with France Ouest, showing the strength of the French regional press against the national one.
McGhee says that title has more than 500 journalists, 48 editions and 4,000 websites, and it's growing circulation (to about 800,000) and revenues.
In Sweden, he points to a rural newspaper that has opened up its newsroom to citizen journalism in a way Britain has not.
That has helped it get all its property and motoring ad revenue back - and it is now 25% of its revenue.
Paper tiger cubs
And in the USA, where newspapers have preceded British ones on a downward trajectory, they're also struggling with paywalls.
But two of the answers are philanthropy, drawing on America's mighty trusts to fund investigative journalism, and tying newspapers ever more closely with universities where journalists are training.
One to watch, says Charles McGhee, is Mercer University in Atlanta, Georgia, where a local newspaper and radio station have moved on campus, providing what's described as the 'medical residency model' - training journalists on the job, as has long happened with doctors.
To me, it sounds all too attractive for newspapers to deploy free or cheap journalists, and it's certainly an attractive opportunity for young student journalists to get a foot in the door.
But once inside the building, it's still far from clear that newspaper journalism is built on firm foundations until it finds a new business model.
You can also comment or follow Douglas Fraser on Twitter: @BBCDouglsFraser