Algerian hostages: 'Scots' could be dead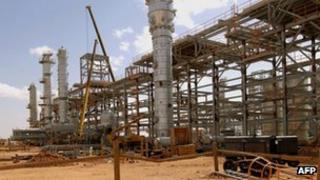 Two people with Scottish connections are believed to have been killed following the Algerian hostage crisis, the Scottish government has said.
A raid by Algerian troops ended a four-day siege at the In Amenas gas facility on Saturday. At least 48 hostages died and Algeria says 32 militants died.
Three Britons are confirmed dead and three more are believed to have died.
The Scottish government earlier confirmed that eight people, identified as resident in Scotland, were safe.
First Minister Alex Salmond said: "We know that two Scots, or people with immediate Scottish family connections, are believed to have been killed. The two families concerned were informed by police yesterday (Saturday).
"We will provide details as soon as we are satisfied that the information is full and final.
He added: "We know that eight Scottish survivors are all now back in the UK. While eight families can thankfully welcome home their loved ones, our thoughts must be with the families of those who may have been lost in Algeria.
"The Scottish authorities continue to offer every support to all caught up in this crisis, and we remain in close contact with the UK government.
"We extend our condolences to all those, of all nationalities, who have lost loved ones and colleagues in this terrorist outrage."
'Very relieved'
Iain Strachan, 38, from Howwood in Renfrewshire, was among 100 foreign workers freed from terrorists who attacked the BP plant on Thursday.
Twenty-two British survivors have been flown back to the UK and reunited with their families.
Mr Strachan is one of eight Scottish people to have escaped.
Speaking on Algerian television, he said he was "very relieved to be out".
"Obviously we still don't really know what's happening back on site," he said.
"So, as much as we're glad to be out, our thoughts are with colleagues who are still there at the moment."
He said the Algerian army's assistance was "fantastic".
"I've never been so relieved as when they came and got us off site," he said.
"We thank them very much for that."
Another hostage, Mark Grant, 29, from Grangemouth, reportedly texted his wife to let her know he was safe.
Alan Wright, 37, of Portsoy, Aberdeenshire, and Kenneth Whiteside, originally from Glenrothes, Fife, but now based in Johannesburg, South Africa, were also reportedly held in the attack.