Glencoe: Tributes for avalanche victims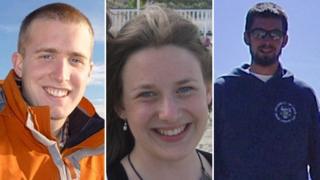 Tributes have been paid to climbers who died in an avalanche in the Scottish Highlands on Saturday.
Christopher Bell, from Blackburn, Una Finnegan from County Londonderry and Tom Chesters, from Sidmouth in Devon, died descending a mountain in Glencoe.
A fourth climber who died, a woman, has not yet been named. A 24-year-old woman remains critical in hospital and a sixth climber, a man, survived.
A friend of the two men said they were elite outdoor pursuits competitors.
Saturday's incident was followed by an avalanche in the Cairngorms which swept one climber 80m (262.5ft) and another 20m (65.7ft).
The pair were in Coire an Lochain when they were caught in the snow slide at about 13:00. The Sportscotland Avalanche Information Service said the climbers were shaken but unhurt.
'Seized every opportunity'
The Glencoe group were caught up in the avalanche on Bidean Nam Bian at about 14:00 GMT.
It is thought the five of them were carried down the mountain when the slope they were on broke away.
The sixth member survived by leaping from the collapsing snow and hammering an ice axe into the ground.
Sam Morris, 35, who had worked with Mr Chesters and Mr Bell as mountain bike guides in the Alps, said they spent most of their free time on the mountains.
Mr Chesters, 28, a PhD student at Hull University and was living in Leeds, was known in the field of orienteering, while 24-year-old Mr Bell, from Balderstone, who was studying for a PhD in ocean mapping, competed in triathlons and excelled in national events, he said.
"It was so few years lived but I know there's not much either one of them would have done differently," he said.
"They seized every opportunity.
"They'd do things that people who spend their whole lives sitting behind a desk wish they could have done.
"When they died they were with the people they loved, doing what they loved."
Despite their orienteering knowledge, he said the men were in the wrong place at the wrong time.
"They were as trained up and as cautious as you can be," he said.
"With the best will in the world, these things are a game of odds."
Paying tribute to Dr Finnegan, a junior doctor living in Edinburgh, Independent councillor David McClarty said his thoughts were with her family.
The 25-year-old studied medicine at Newcastle University and took a masters in anthropology of health and illness in Edinburgh.
He said: "When one hears of a tragedy like this your heart goes out to the families affected", he said.
"This young woman, a qualified doctor, had her whole life ahead of her and then it is tragically cut short.
"The family is a Christian one and hopefully they will get some comfort from the fact that she died doing something she enjoyed."
The search and rescue teams were first alerted by two climbers who were not part of the group when they saw one of the casualties in the snow.
The unnamed survivor also contacted them to say more people were missing.
In a statement he said they were in an area known as Church Door Buttress when the avalanche struck.
He said: "It is with much sadness and deep regret that some of my friends have died as a result.
"All in the group loved the mountains and are experienced winter walkers."
Jonathan Hart, chairman of the Mountain Rescue Committee of Scotland, has described the incident as a "tragic event".
The Reverend Moira Herkes of St Munda's Church, in the Highlands, said it was the worst accident in the area for many years.