John McMurchie: Fight preceded murder in Dundee, say police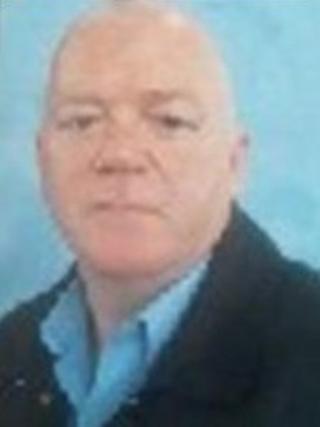 A murdered grandfather was involved in a "significant physical altercation" at a house shortly before he was found lying in a street, police discovered.
It follows five months of "meticulous forensic examination" of a house in Dundee's Murrayfield Gardens, but it has now been returned to the occupier.
And police have reiterated their calls for information about the death of 50-year-old John McMurchie.
He was discovered in Fintry Terrace at about 04:00 on Sunday 12 August.
The father-of-five and grandfather-of-two was taken from where he lay near the junction with Whitfield Drive to Ninewells Hospital but was found to be dead on arrival.
Man initially arrested
Officers from Tayside Police seized the house in Murrayfield Gardens, where Mr McMurchie, a security guard from Errol in Perthshire, was known to have been socialising before he died, leaving half an hour before he was found.
Outlining the progress of the investigation, Det Insp Bobby Dow said: "A detailed forensic examination of the house in Murrayfield Gardens area, coupled with witness reports, has revealed that John was involved in a significant physical altercation within the property shortly before he was found dead in the street.
"Whilst we have returned the house to the occupier, our enquiries are continuing to establish exactly what happened the night of John's murder and who is responsible."
A 63-year-old man was initially arrested as a part of the investigation but was subsequently released without charge.
By November, police had taken more than 1,000 witness statements, examined hours of public and private CCTV footage and made a special appeal at the football derby between Dundee United and Dundee, while Crimestoppers offered a £5,000 reward for information.
Significant part of investigation
Det Insp Dow again appealed for the public to come forward with information.
"I would urge anyone who has knowledge of what took place in the house, or who might be involved, to get in touch with us," he said.
"Establishing exactly what happened in that house is a significant part of our investigation and may be key to finding out who is responsible for John's murder.
"We continue to update John's family on the enquiry and they have been fully supportive of the investigation carried out so far.
"Someone knows who is responsible and can give John's family the answers they deserve."