World's railway future born in Edinburgh test lab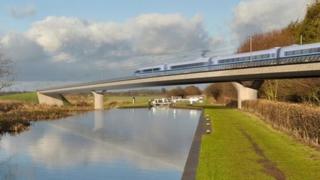 When will high speed rail arrive in Scotland? Don't hang about on the platform just yet.
The Scottish government wants to see such a link between Edinburgh and Glasgow. But the 140mph trains won't be running until 2024 at the earliest.
It may be a decade after that before the High Speed Two line reaches us from London. Maybe never.
But in a laboratory at Heriot-Watt University on the edge of Edinburgh, Scotland already has the next best thing. Something which might just help those high speed trains arrive early.
Prof Peter Woodward points upward to a huge structure built from bright yellow girders. It's festooned with high pressure pipes and a set of intimidating hydraulic rams. It's not a hard hat area for nothing.
This is Graft 2, which he explains stands for "geopavement and railways accelerated testing facility".
It's the largest such rig in the UK. The big idea is to simulate in real time and at full size the stresses which high speed trains inflict on their tracks.
Within the steel rig Professor Woodward and his colleagues will build a series of track beds. They could be traditional ballasted beds or continuous concrete slab. A track prone to flooding, perhaps, or one laid across a desert.
The tracks will be life size in every detail. And then they will be pounded.
Each of the software-controlled hydraulic rams can deliver a force of 20 tonnes, giving the rig the ability to mimic the effects of different types of train. Normal or high speed, passenger or freight - even the next generation of ultraspeed vehicles travelling at more than 250 mph. There's capacity to increase the number of rams to 18, given sufficient funding.
Polyurethane resin
Peter Woodward is no newcomer to this field. He and his colleagues have spent the last 15 years researching track beds at Heriot-Watt. He's acknowledged worldwide as an authority on the geoengineering of railways.
His research into using polyurethane resin to stabilise and reinforce rail tracks led to the creation of a spin-out company. The technique is used across the UK's railways and increasingly abroad.
But he's confident this new rig will enable them to take their work to another level.
It will give him the ability to simulate decades of track wear and tear, in the laboratory, within a matter of weeks.
"A faster rail link is part of future improvement plans for Scotland and the rest of the UK," Prof Woodward says, "and this test rig will not only speed up the process but will also reduce the cost."
He's confident it will help Heriot-Watt develop new designs and set new standards for high speed rail - part of a push to make the university a centre of excellence in the field. His expertise is already in demand from France, Japan and the United States.
The first test track is expected to be in place within a few weeks.
We will have much longer to wait for Scotland's high speed trains, but it's a start.