Move to monitor new Scottish police force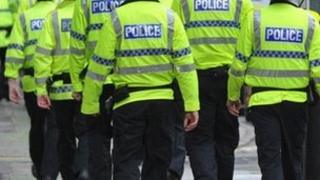 Scotland's new national police force could be overseen by a new parliamentary committee, amid concern it has been beset by a power struggle.
The new service will go live in April, but the issue of who should have day-to-day control of human resources and finance functions had been in dispute.
Holyrood's justice committee has proposed a sub-committee looks at how the force is working.
The move would need the approval of parliament.
Scotland's regional police forces are being merged with the aim of saving cash without hitting frontline services.
The chief constable of the national force, Stephen House, and Vic Emery, the chair of civilian oversight body the Scottish Police Authority, had been unable to reach agreement over the HR and finance issues.
The issue prompted Justice Secretary Kenny MacAskill to intervene and ask the parties to consider sharing the functions.
Outlining the proposal, justice committee convener and SNP MSP Christine Grahame, said: "As we have already witnessed, the establishment of the single police force has raised a number of serious issues over the role and control of both the chief constable of the Police Service of Scotland and the overseeing body, the Scottish Police Authority.
"In setting up the new national body - an incredibly powerful organisation - it is vital we get it right first time.
"We believe it therefore commands a more formal and detailed examination of its accountability than the justice committee can devote to it, due to our heavy legislative programme."
The justice committee has previously talked of a "power struggle" and called for an end to "empire building" over the issue.
If approved, the new sub-committee would meet in public four times a year and comprise three members of the justice committee and three members of other relevant Holyrood committees.
It would be the first parliamentary sub-committee since one was set up to look at the issue of child sex offenders, in 2006.