Selling across borders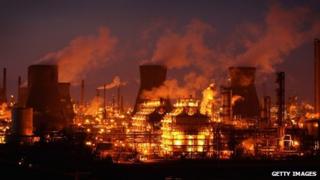 What is it that Scots are selling to the rest of the world? And is there enough attention being paid to sales into the rest of the United Kingdom?
After all, there's a big plan afoot to turn the latter from a domestic market into an export one. So which parts of the Scottish economy should be paying most attention?
On Wednesday, we got an update of sales by Scottish firms into the rest of the UK and export markets. Being rather more exotic and politically less problematic, the foreigners tend to get much of the attention, at least from the First Minister, who was highlighting the exporting success of Scotland's space technology firms.
The USA retains its top spot as a destination for Scottish goods and services, spending £3.5bn in 2011. (No, they're not the freshest of figures, but they're the most recent we've got. The quarterly growth figures are already running three months behind the UK ones, and this week, they've been delayed into next week.)
And which is the second biggest market? Did you honestly know or guess it was the Netherlands?
And so it's been for at least the past five years of figures, rising to £2.7bn in sales, followed by France, Germany, Belgium and Spain.
If you put the rest of the European Union together, Scotland's exports run to £11bn, out of a total £23.9bn in 2011.
And that ought to focus minds if there's to be a referendum on the UK's membership of the European Union in the next five years.
Big growth economies
It's not that we don't sell anything outside the EU. Norway is market number seven in size of exports, and Switzerland, another non-EU member, is at number nine, with combined exports of £1.4bn.
But the big growth economies are still a long way behind those closer to home. Exports to the whole of Asia, at £2.26bn, were behind those to the Netherlands. There's little more than £1bn in sales to the Middle East and only a bit more to Africa.
What is it Scots are selling? A lot of distilled spirit, it seems, at £3.5bn, rising by £1bn over the previous five years. That's the well-documented boom in Scotch whisky.
Petrochemicals is another category that's big and growing, up to £3.7bn, for which Grangemouth has to take much of the credit. (These figures don't include crude oil and gas which, of course, will rankle with some.)
Financial and insurance services were on the rise, from £650m exports while the sector was still booming in 2007, to £1.4bn in 2011.
Education nearly doubled its exports over that period, to more than half a billion. Thank the universities for that.
But the electronics industry, which saw Silicon Glen hugely dominant in exports until around the turn of the 20th century, fell further, from £1.6bn in 2007 to £1.4bn in 2011.
And how does this differ from sales into the rest of the UK?
Vodka and gin
Distilled spirits matter much less. Their sales into England, Wales and Northern Ireland have grown more slowly, to reach £645. A lot of that is not whisky, as Diageo's Cameronbridge grain distillery produces enormous quantities of vodka and gin.
The interesting growth area is in 'utilities', which appears to mean the selling of power, rising from £2.9bn in 2007 to £4.8bn by 2011. If renewable power continues its current trajectory, that growth can be expected to continue, which might explain why utilities are paying particularly close attention to the debate on Scottish independence.
SSE was one of the first to warn that political risk was putting up the cost of new investment projects. And as it happens, Wednesday saw an important departure from the chief executive's office there of Ian Marchant - a man whose pricing decisions may not have won much love from the customers of Scottish Hydro, but who has been a very important figure to growing the power company out of its Perth headquarters and taking big decisions to put it at the forefront of the renewable power industry.
Financial and insurance services are another sector watching the independence debate very carefully, because there is so much cross-border regulation and the dominant share of markets south of the border. Those sales fell, while its foreign exports rose; UK revenue was down from £10.9bn in 2007 to £10bn in 2011.
There was a much more positive story to tell in professional services, including legal, accounting, engineering and technical know-how. Its sales into the rest of the UK rose through the downturn from £1.3bn in 2007 to £2.4bn in the most recent figures.
Overall, Scottish sales into the rest of the UK rose from £41bn to £45.5bn over that period.
So for every £1 of sales to foreign exports, the rest of the UK is a market for roughly £2 in sales. That helps explain why the SNP is keen to keep the pound sterling instead of a move to the euro.
But as those sales are attached to a lot of jobs in Scotland, retaining access to both UK and European Union markets will also be of interest to workers with votes when at least one referendum takes place in 2014, and perhaps another one four years later.
You can also comment or follow Douglas Fraser on Twitter: @BBCDouglsFraser