Scottish flooding possible as thaw begins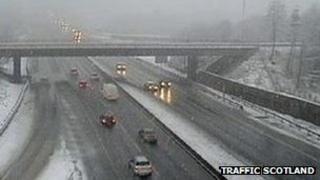 Scotland's environment agency has warned of the possibility of flooding over the weekend as Friday's snow begins to melt.
Sepa said the the Scottish Borders and Dumfries and Galloway were particularly at risk of localised flooding.
But the thaw was expected to be gentler in more northern and western areas, where the risk was said to be "low".
Motorists had earlier been warned of icy conditions on many roads across the country.
David Faichney, Sepa's hydrology manager, said: "The arrival of milder temperatures will lead to a thaw of low lying snow in many places, which will result in a rise in river levels across the country.
"No significant flooding is expected from larger rivers, however some localised flooding may occur from surface water and smaller watercourse in Dumfries and Galloway and the Borders area where the thaw is expected to be greatest and the rainfall heaviest.
"The north and east of Scotland are forecast to experience a gentler thaw and less rainfall than the south and west of the country during this period with the risk of flooding in these areas very low."
Heavy snow fell across many parts of Scotland on Friday, causing some disruption on the roads and several schools to close.
Icy stretches formed in many areas overnight, particularly on untreated surfaces, leaving some roads and pavements hazardous.
Several roads remained closed in Aberdeenshire on Saturday morning as a result of snow but police said these would be reviewed later in the day.
There was also a spate of minor accidents in the Borders due to the icy conditions.
Three horses had to be rescued after the roofs of two barns collapsed under heavy snow in separate incidents in Angus and Perthshire.
A spate of roads were closed in Aberdeenshire on Friday due to a combination of weather and accidents while police in Central, Tayside and the Borders urged drivers to travel with care as snow began to lie on the roads.
Flights were diverted from Aberdeen airport to Edinburgh as the north east continued to see the worst of the weather.
Dozens of schools in the area were closed along with others in Angus, Perthshire and Dumfries and Galloway.
The opening show of the Big Burns Supper in Dumfries was cancelled because of the snow, but organisers said other events planned for the weekend are scheduled to go ahead
Have you been affected by the weeather? Has your travel been disrupted? Please send us your pictures and videos to newsonlinescotland@bbc.co.uk
Read the terms and conditions
To access more information from your mobile, visit the BBC Weather and BBC Travel News sites.
The enhanced content on this page requires Javascript and Flash Player 9
Map Key
Land
Cloud
Lakes, Rivers & Sea
Fog
Light
Heavy
Frost
Light
Heavy
Pressure Fronts
Cold
Warm
Occluded
Rain
Light
Heavy
Extreme
Snow
Light
Heavy
Temperature tab only
Temperature (°C)
More details from BBC Weather