Scots university applications rise 2%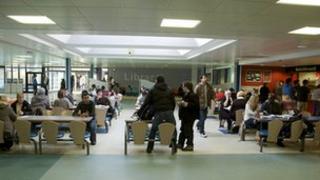 The number of students from Scotland applying for university places has risen 2%.
Figures from the the Universities and Colleges Admissions Service (UCAS) show there were 39,954 applications in 2013, compared with 39,169 the previous year.
There was also a big rise in the number of students from outside Scotland applying to Scottish universities.
The overall rise applications was 7% with the number applying from England up almost 15%.
While students who live in Scotland or other EU countries do not pay tuition fees, students from the rest of the UK and non-EU students face fees of up to £9,000 per year.
That means the cost of a four-year degree in Scotland could cost £36,000, although some A-level students can apply for Advanced Entry into the 2nd year of an honours degree course.
In England, where degrees are generally over three years, graduates usually pay no more than £27,000.
Despite having to pay fees to study in England, there was a rise of 2.7% in the number of people from Scotland who chose to apply to English universities.
Figures seen by the BBC suggest applications from the rest of the UK for places at Scottish universities are also markedly up, despite the introduction of fees.
'Best package'
At Edinburgh University demand from Scottish-based students was up 4.3%, at St Andrews it has risen by 4.5% and Glasgow saw a 10.2% increase.
While there were over 100,000 applications to Scottish universities for next term, around 38,500 places are available.
The Scottish government recently announced extra funding to boost that number by 2,000.
Education Secretary Michael Russell said: "It is good news that a record number of people living in Scotland have applied to university next year and that our universities continue to be a coveted choice around the globe. I am particularly pleased to see more school leavers from deprived areas applying.
"These figures show Scots are already benefiting from our decision to ensure access to higher education is free and these students will also be some of the first to benefit from the best package of student support in the UK."