Scottish prisons inspector announces he will step down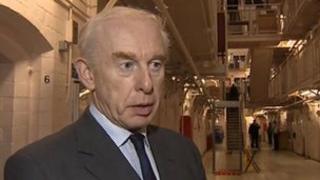 HM Chief Inspector of Prisons in Scotland Brigadier Hugh Monro has announced he will step down from the post.
Brig Monro's four-year term comes to and end in June, and he said he would not seek reappointment.
After replacing Dr Andrew McLellan in 2009, Brig Monro campaigned for better visiting facilities, job training and improved services for female prisoners.
The 59-year-old retired from the Army in 2008 after serving for 36 years.
Brig Monro said: "I have very much enjoyed this job and there is much work under way that I would have liked to bring to a conclusion.
"We've opened the debate on young offenders, and hugely improved our own inspecting and reporting process. And of course the Scottish Prison Service is undergoing a period of transformational change which I continue to support.
"It has been a real privilege to be HM Chief Inspector of Prisons and I hope that I can be of help again to the Scottish government or Scottish Prison Service in future."
Brig Monro was commissioned to the Queen's Own Highlanders in 1972 and commanded the 52nd Lowland Brigade, based in Edinburgh Castle, from 1998 to 2001. He also served as deputy commanding general of the multi-national security transition command in Iraq.