Gamekeeper warns of deer cull 'bloodbath'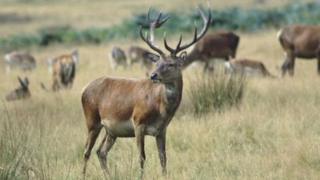 A gamekeeper has criticised a government agency over a proposed cull of nearly 700 deer and calves.
Scottish National Heritage (SNH) has ordered the cull "to protect the natural environment".
But Peter Fraser, vice-chairman of the Scottish Gamekeepers Association, warned that it would be a "bloodbath".
"If this was to go ahead, the government would be laying itself open to criticism of committing a wildlife crime," he said.
"Killing nearly 700 deer in three weeks raises serious welfare issues and the concern for the animals surely has to kick in."
He also insisted that his objections were not just a result of a threat to sporting estate finances in Angus.
SNH responded by pointing out that its deer management group had agreed a sustainable herd density of 19 deer per square kilometre.
'Insufferable stress'
It argued that the Scottish and UK governments could face legal action if the protected areas do not meet the conditions that are being imposed, and stressed that it was aware of the potential welfare issues.
Pressure is being applied on sporting estates who have failed to meet the cull agreement, although this week's deadline has been extended until the end of the month.
The proposed cull around Caenlochan will result in the deer being killed out of season in order to honour a target put in place by the now defunct Deer Commission a decade ago - a target some claim is out of date.
Mr Fraser said: "Due to snow, the deer have been pulled down off the high tops and their movement has been greatly restricted.
"They will be in large groups and the same deer will be targeted over and over again with little respite, placing them under conditions of insufferable stress over a prolonged period.
"To rush simply to achieve a cull target is wrong. It will be a bloodbath.
"It will also endanger the survivors because, as the deer try desperately to escape or 'panache', the surviving deer will burn up body fat reserves required to get them through until Spring.
'Sustainable numbers'
"The general body condition of deer at this time of year is poor and the culled animals will go into the food chain, which would seem to contradict the aspiration of producing quality venison in Scotland.
"And also too there is a risk that, when you continually disturb these hinds, a lot of these beasts are heavy in calf and, there's no doubt about it, you'll get some abortions."
Mr Fraser recognised that critics of the gamekeepers' stance suggested they were simply motivated by commercial interests.
"To a certain extent, that's correct," he told BBC Scotland.
"A lot of these estates depend on sustainable deer numbers and it is fair to say that all the estates in this cull have done their very best to get the deer numbers down.
"I personally would have liked to have seen another year or two at this to get it down without all the welfare issues attached to it."
He said many estates which had complied with the cull had found themselves very short of deer.
'No credibility'
"In fact, there's big areas void of deer altogether, and we want to see a sensible distribution of deer," he added.
Damage to habitat and alpine plants by grazing deer in the Caenlochan area was cited as the original reason for the cull target 10 years ago.
However, Mr Fraser said that grazing damage by sheep and hares had been overlooked by the government agencies.
Meanwhile, John Patrick, of campaigning group Scotland For Animals, claimed that SNH had "no credibility" when making decisions concerning wild animals because of what he said was a high proportion of blood sports enthusiasts within the organisation.
"We need a complete rethink on how land in Scotland is managed - and who is managing it," he said.
"Deer populations are erratic because of the hunting industry - it's completely disrupted the natural order.
"A return to allowing deer to exist undisturbed in their natural environment, along with investment in fencing schemes, etc, would go much further than this month-long, legally sanctioned bullet festival that SNH have planned."