Scots farmers 'angry and betrayed' by horsemeat scandal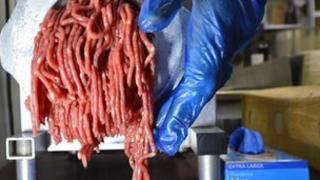 The leader of Scotland's farmers has said the industry feels angry and betrayed by big retailers following the horsemeat scandal.
Nigel Miller, the president of the National Farmers Union Scotland, said the controversy had undermined years of good work.
It has also emerged Edinburgh City Council was checking school meals to make sure they had not been affected.
The local authority said it had found no samples that caused concern.
Last month, Irish food inspectors said they had found horsemeat in beefburgers made by firms in the Irish Republic and the UK, and sold by a number of UK supermarket chains.
Since then, a growing number of UK retailers have recalled processed beef products found to contain horse DNA.
Mr Miller said: "I think they (farmers) are angry and I think they feel betrayed as well because in Scotland we've gone to such a huge effort to ensure that everything is done right and that traceability is total.
"To actually see retailers who are moving away to cheaper products and ignoring these very basic principles is just unbelieveable."
Scottish local councils began testing processed "beef" products for traces of horsemeat just under a week ago.
A City of Edinburgh Council spokesman said: "Scientists at the council's Edinburgh Scientific Services laboratory are currently undertaking a sampling programme of meat products under the direction of the FSA as part of their UK-wide authenticity survey.
"For reassurance purposes, we are also currently carrying out sampling of processed meat products supplied to our schools, residential homes and other council establishments.
"Our inquiries so far have shown no cause for concern with products supplied to council-run institutions. Of course, if further information emerges, we will take immediate action."
The Food Standards Agency said it had carried out 2,501 fresh tests, and no new products had been identified as containing more than 1% horsemeat.
Commenting on those test results, the Scottish government's cabinet secretary for rural affairs Richard Lochhead said: "Today's initial test results offer some reassurance that this issue is not widespread.
"Companies supplying meals to the public sector in Scotland, including schools, hospitals and prisons, have been carrying out extensive checks. They have confirmed to-date they are clear of any mislabelled meat.
"These detailed inspections continue to be carried out and I hope that further reassurance can be offered in the coming days."