Nobel prize winner Joseph Stiglitz to give evidence to MSPs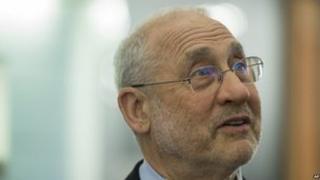 A Nobel prize-winning economist is to give evidence to the Scottish Parliament's Economy, Energy and Tourism Committee.
Professor Joseph Stiglitz will appear before MSPs by video link at the end of this month.
He will give his views on alternatives to Gross Domestic Product (GDP) as a means of measuring economic performance.
The economist has advised both the French and American governments.
He is also a member of First Minister Alex Salmond's Council of Economic Advisers.
Committee convener Murdo Fraser said he was "delighted" that MSPs would get the chance to quiz Prof Stiglitz.
He said: "Professor Stiglitz is a world-renowned academic who has advised the French and American governments as well as the World Bank and the United Nations.
"So, his expertise in alternative measures of economic growth is unparalleled and our committee is delighted that he will inform our understanding of this subject."
Prof Stiglitz, from Columbia University in New York, won the Nobel Prize for economics in 2001.
He served on US president Bill Clinton's economic team before joining the World Bank as chief economist and senior vice president.
In 2008 the then French president Nicolas Sarkozy asked him to chair the Commission on the Measurement of Economic Performance.
Prof Stiglitz said: "I am delighted to advise, for the first time, a committee of the Scottish Parliament.
"My work with the international Commission on the Measurement of Economic Performance and Social Progress has underlined the concerns over the adequacy of gross domestic product as a measure of well-being, and I hope that my knowledge and expertise in this area will convince the committee to consider this issue in more detail."