Pandas 'may be ready to mate soon'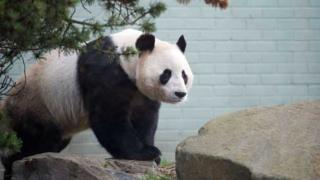 Edinburgh Zoo's most famous residents may be getting ready to mate - a few weeks earlier than last year.
Female pandas are ready to mate for less than 48 hours in a year and the annual opportunity could come as early as next month, experts have said.
Male panda Yang Guang has been doing "handstands" and trying to leave his scent as high up the wall as possible to show his virility.
Female Tian Tian has been "bleating", normally the pandas are quiet.
In 2012 female Tian Tian came into season on 2 April
The giant pandas, who are both nine years old, were introduced to each other on five separate occasions. They made several attempts but no successful mating took place.
Zoo experts said it was it is impossible to tell the exact timings for mating yet but predicted the breeding season could fall somewhere in March.
They are able to predict when both giant pandas are ready to breed by a combination of behavioural observation and hormone testing.
The zoo said it would use natural and assisted reproduction this year.
It is testing Tian Tian's hormones every day and this year will also test Yang Guang to help in the understanding of male panda behaviour.
Iain Valentine, director of giant pandas and strategic innovations for the Royal Zoological Society of Scotland, said: "We're delighted that both Tian Tian and Yang Guang have started to scent mark and call, both clear behavioural indicators of courtship and mating behaviour."
He added: "Although both giant pandas are showing these changes in their behaviour, it is still early days yet and way too early to give any accurate prediction on timings, however, early indicators do suggest the breeding season will probably fall in March this year.
"In reality we could be as little as four weeks away, although equally the big day could still be as far off as eight weeks. We are now definitely on the flight path.
Tian Tian and Yang Guang have both bred before, although not with each other.
They arrived in Edinburgh from China in December 2011.