Rangers v Annan: Four fans arrested after December match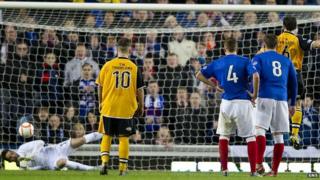 Four fans have been arrested in connection with an alleged disturbance at Ibrox Stadium during a Rangers versus Annan Athletic football match.
They were arrested in the Glasgow area in a joint policing operation carried out by the National Football Co-ordination Unit for Scotland.
Two 16-year-old men, a 24-year-old man and a woman who is 18 are to appear at Glasgow Sheriff Court on 22 March.
Eight other men were also arrested on the evening of the 18 December match.
The men, aged between 17 and 31, have still to appear in court.
A police spokesman said the disturbance during the Scottish Third Division match, won 3-0 by leaders Rangers, was "brought swiftly under control" by stewards.